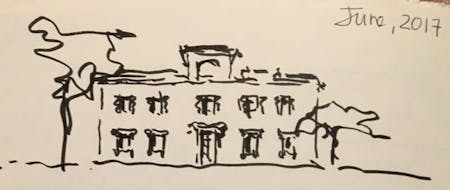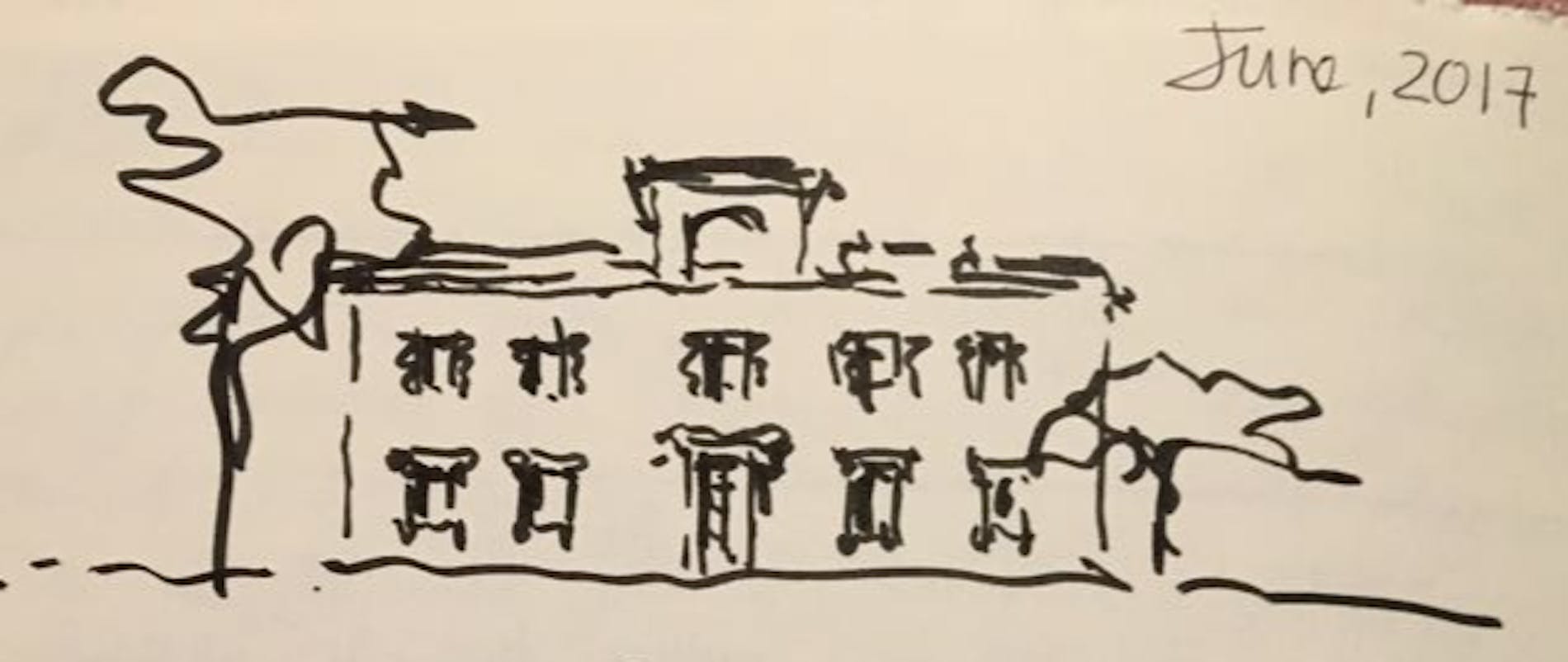 Scroll down
Thank you ! What a wonderful place. After a long year of little contact all family was able to re-unite and enjoy each other in this magical setting. Vielen, vielen danke!
The Loesche family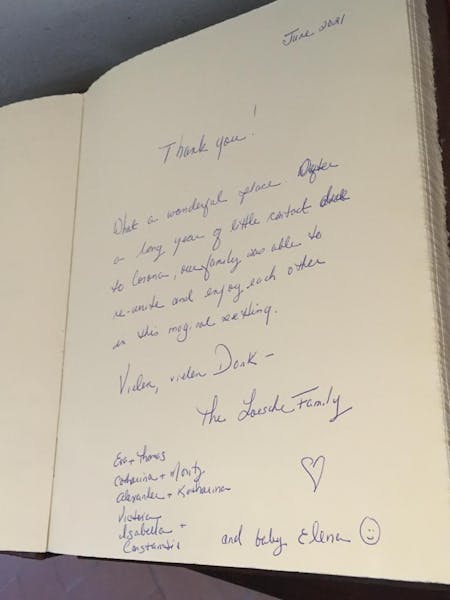 ---
A beautiful pace indeed in the most beautiful countryside of the world. Thank you all for a memorable stay and for looking after us so well in this magical place which we cherish very much. We had a wonderful stay which we won't forget. This is the best villa I've ever been to and Marcella and Remus are super! Specially the chefs!
Gigi Sokol and friends, London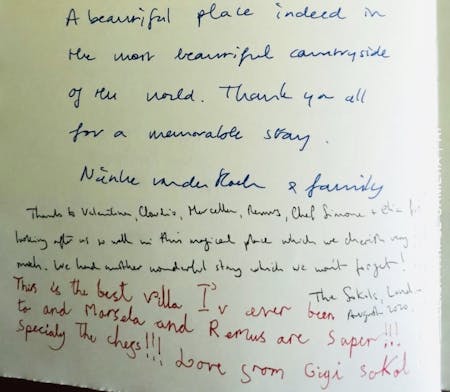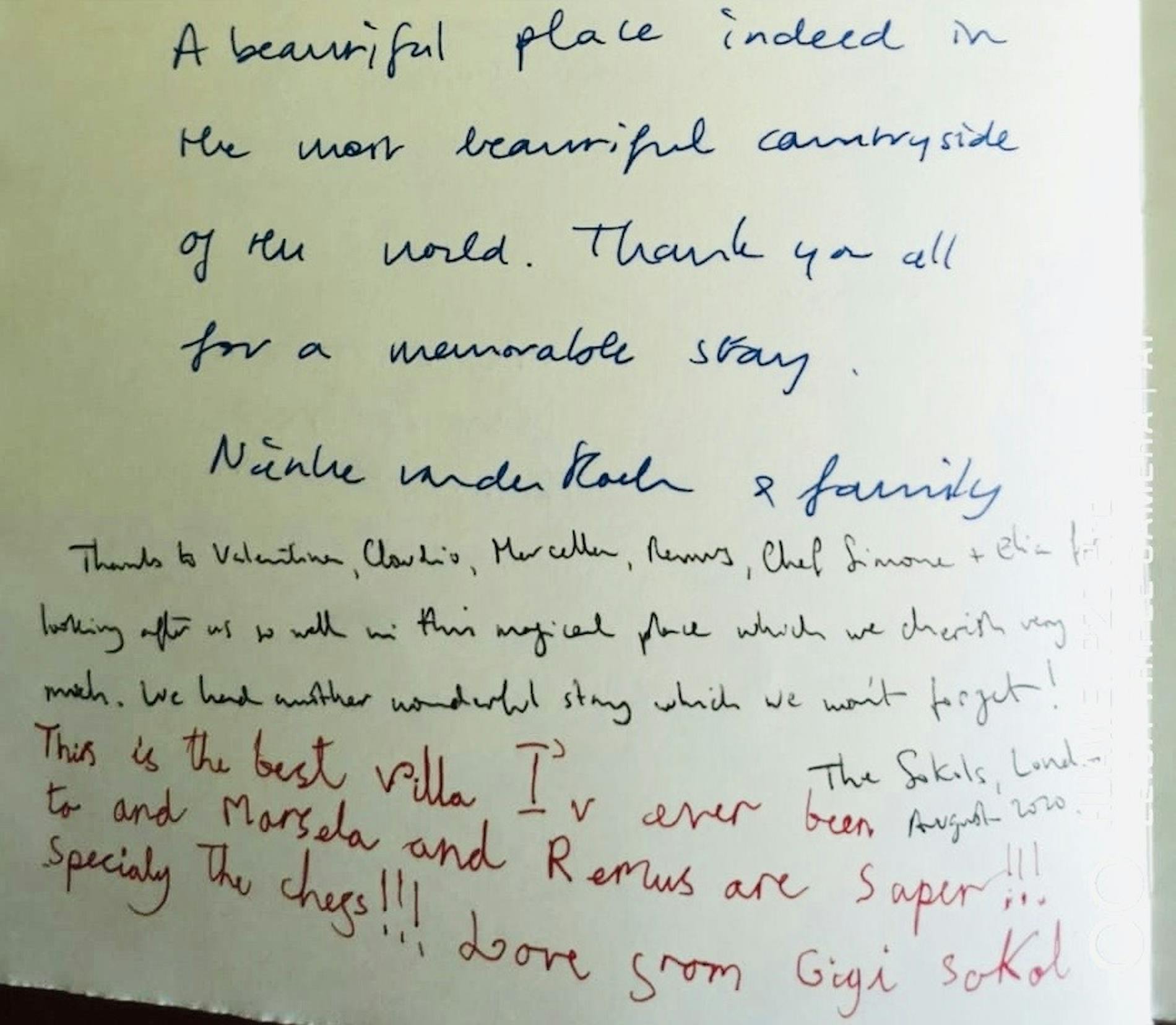 ---
A magical stay in a wonderful gloriuos place. You provided a sanctuary from Covid. Thank you for looking after us so well. Thank you once again for an unforgettable visit to Florence and the villa. I hope that we are here again soon! (duplicate)
Claudia Sokol and Ginks family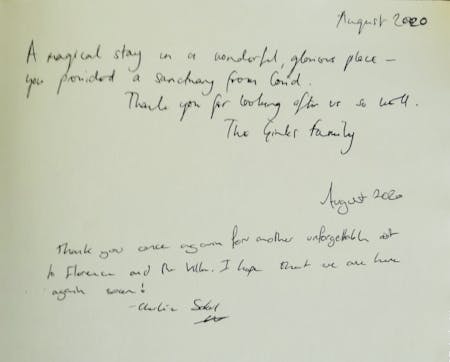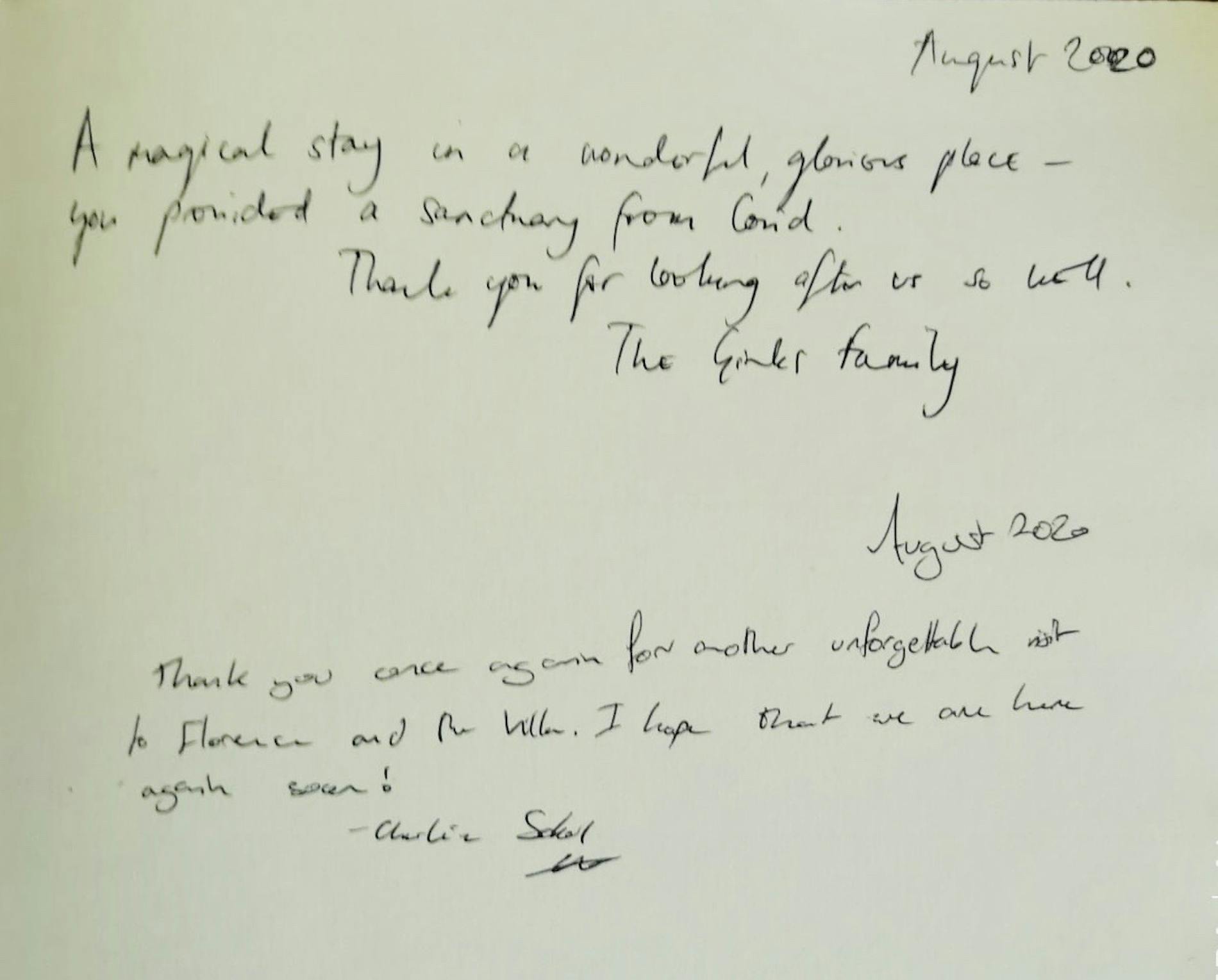 ---
We had a fantastic stay here at villa Tavernaccia, what a beautiful place, in the most beautiful countryside of the world. Thank-you all for a memorable stay.
Ribbink family, Amsterdam, NL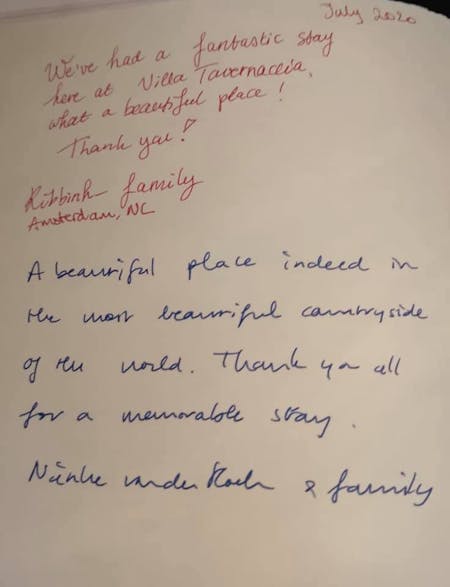 ---
Thank-you! For a wonderful stay in beautiful settings! The 60 km bike ride was a real challenge! Great food from chef Giacomo Petri and excellent service from Marcella. Best regards.
Max, Andreas, Urban, Jacob, Rasmus, Oscar, Tobias, Hendel, Fredric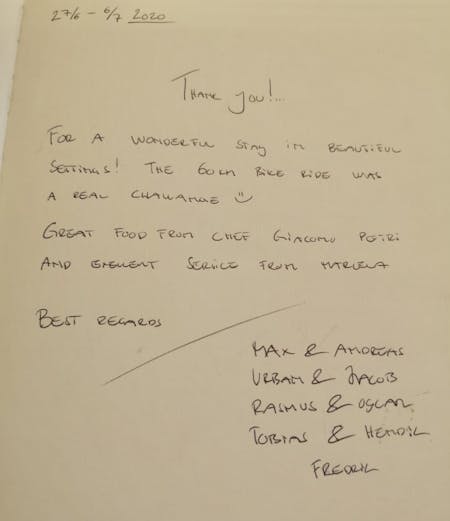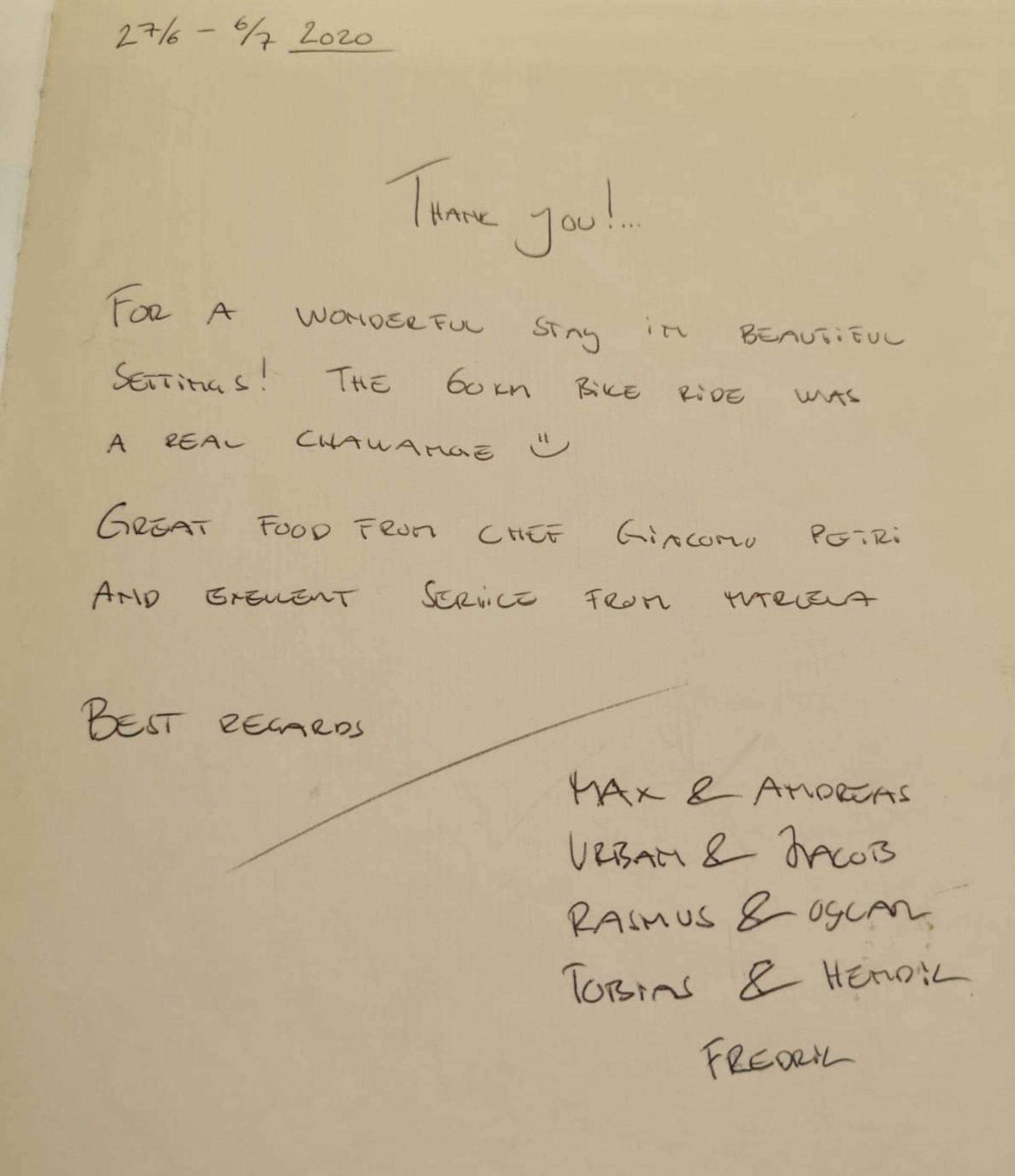 ---
June 2020   We arrived under the most unusual of circumstances… At the beginning of the pandemic that caused global devastation. Tavernaccia became our refuge for the following three months. And apart from keeping us physically safe and well, it also provided a balm for our troubled souls. The peace, calm views, caring stuff, all contributed to our general feeling of well being. Here in lockdown, walking through the garden and the olive grows every days with the children, baking in the kitchen, taking log baths in the cozy, clean rooms. We came together as a family and leave stronger, healthier and ready to face the "new normal" of our world. So thank you so much from the bottom of our hearts.
Jamie, Alessandro, Charey and Jack De Negri Paula and Dunica XXXX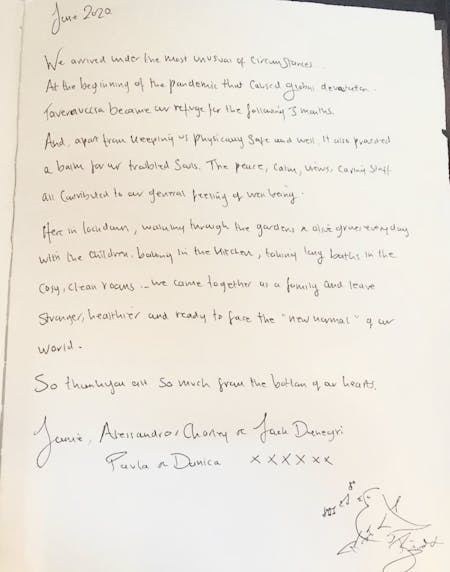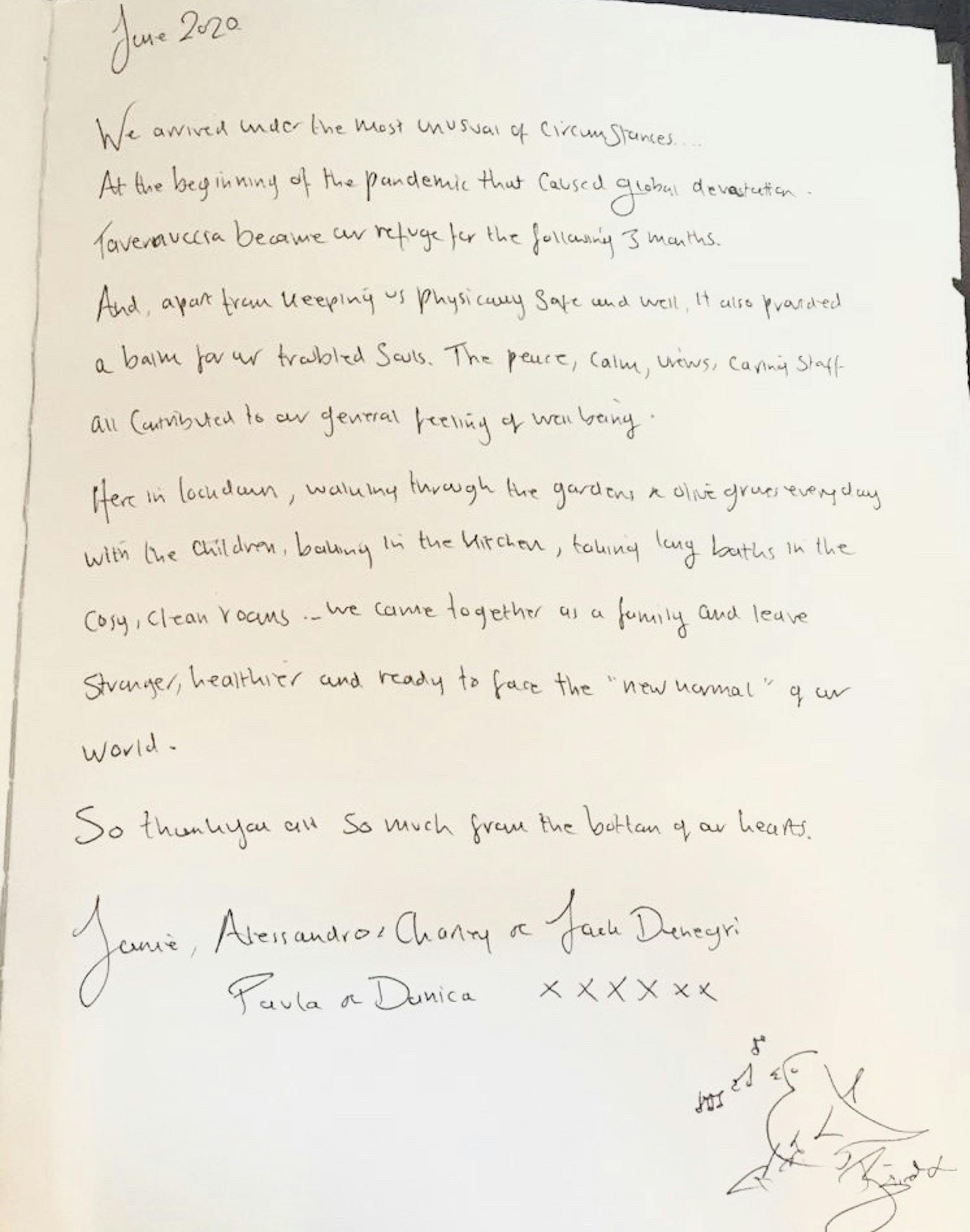 ---
"Paula and I are celebrating our 50th wedding anniversary – This is the perfect place, we have 11 family! A special week! All the best!"
Pat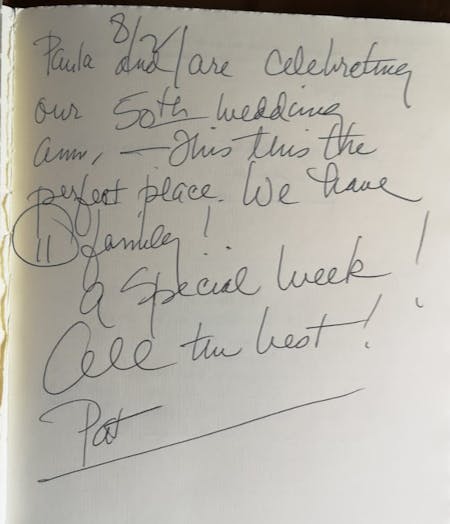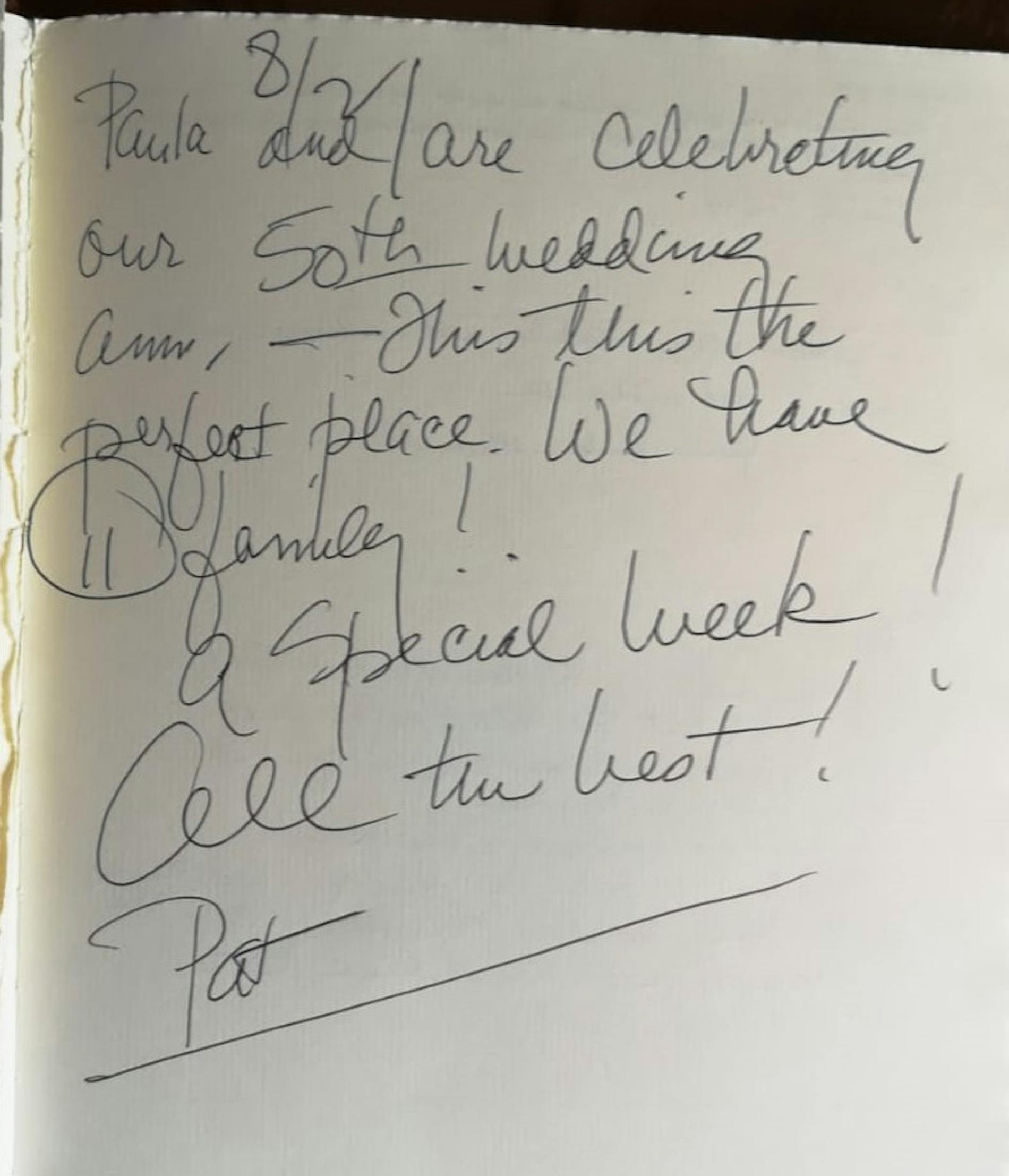 ---
"Thanks for a lovely stay, we have had a wonderful family holiday, one we will never forget. Thanks."
The Kocks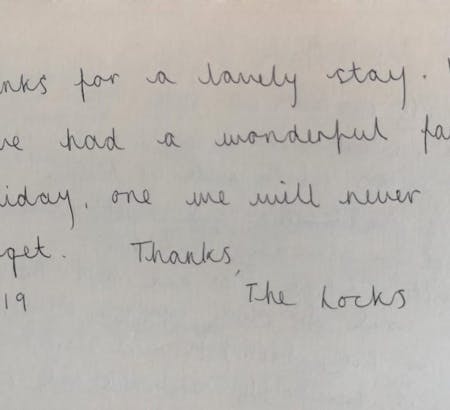 ---
"Magical – Staff, location, food – wonderful."
Barbara and Bill Young


---
"This villa is the best. And Daniele was a star. A wonderful surprise. Thank you to all, it was a very memorable time. We will be back!!!"
Celeste e Emler Neuman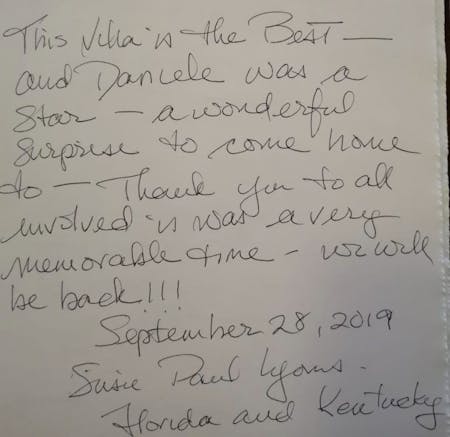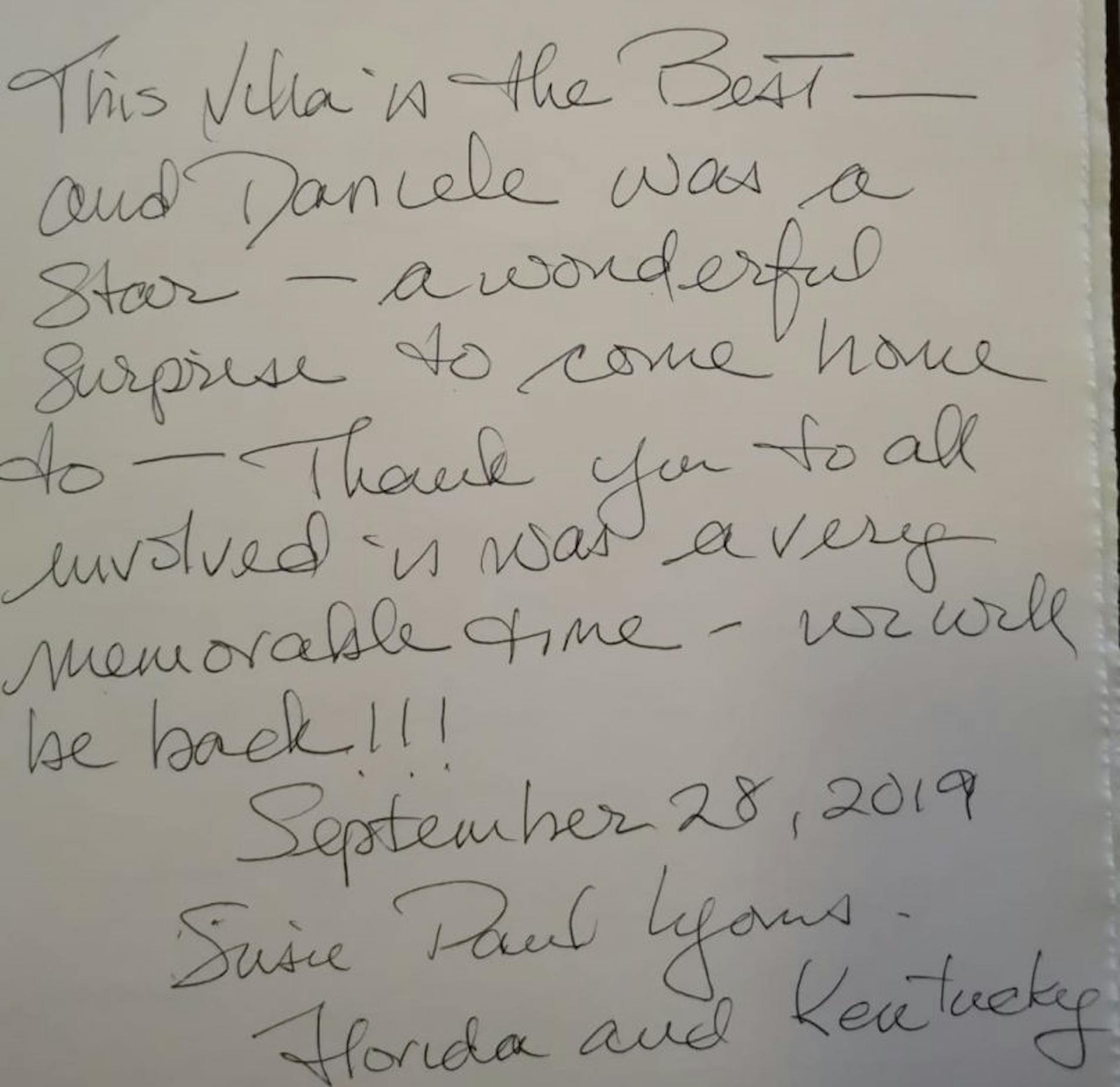 ---
"A magical week with the dearest friends"
Blythe and Robert Clay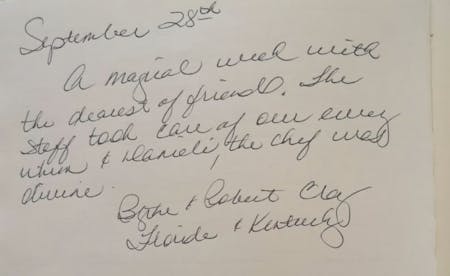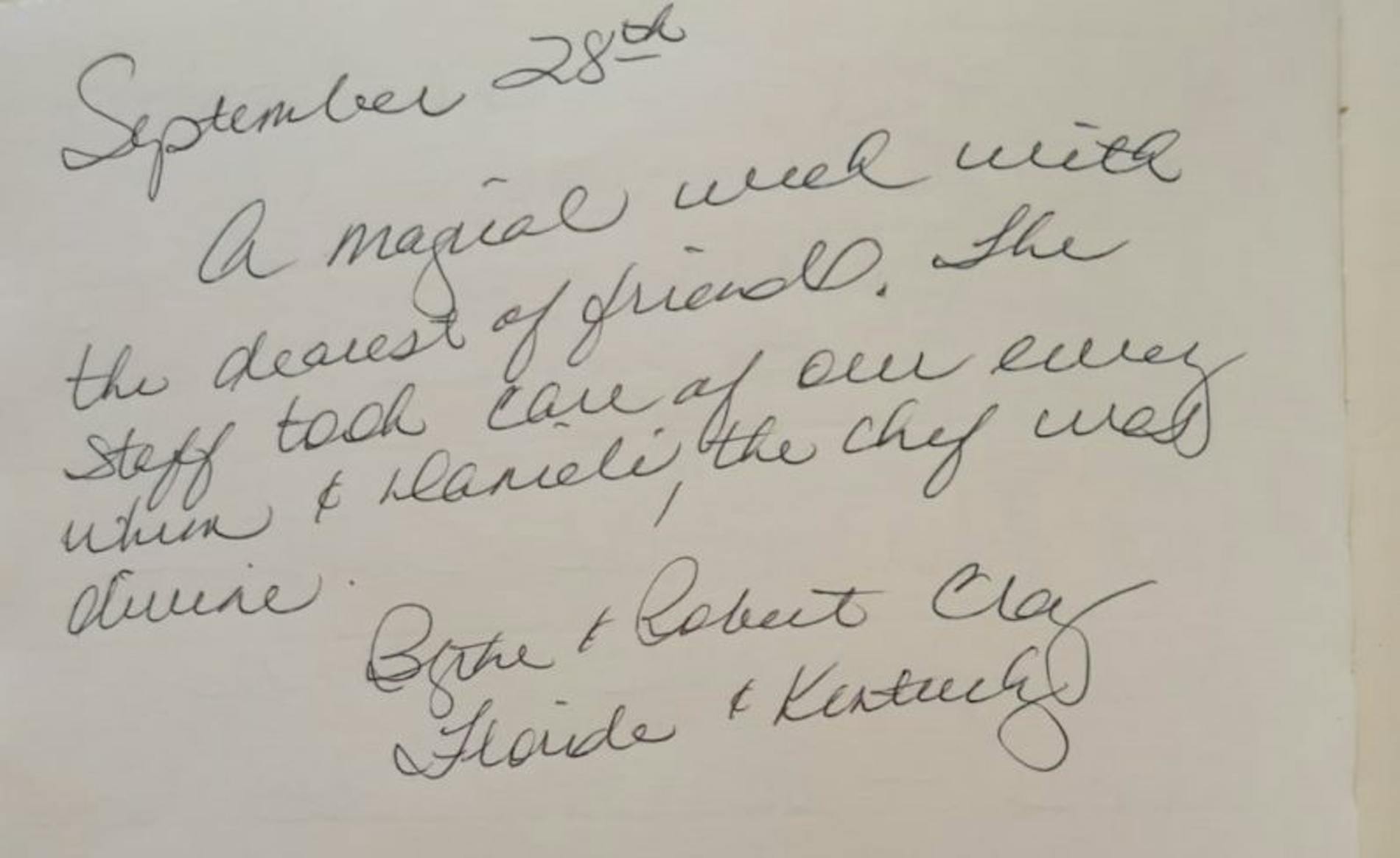 ---
"We had the most wonderful week at your villa with our friends. Everything was perfect and seamless the countryside is stunning. Our chef and staff were great as well"
Celeste e Emler Neuman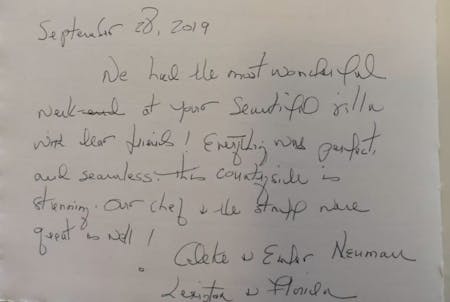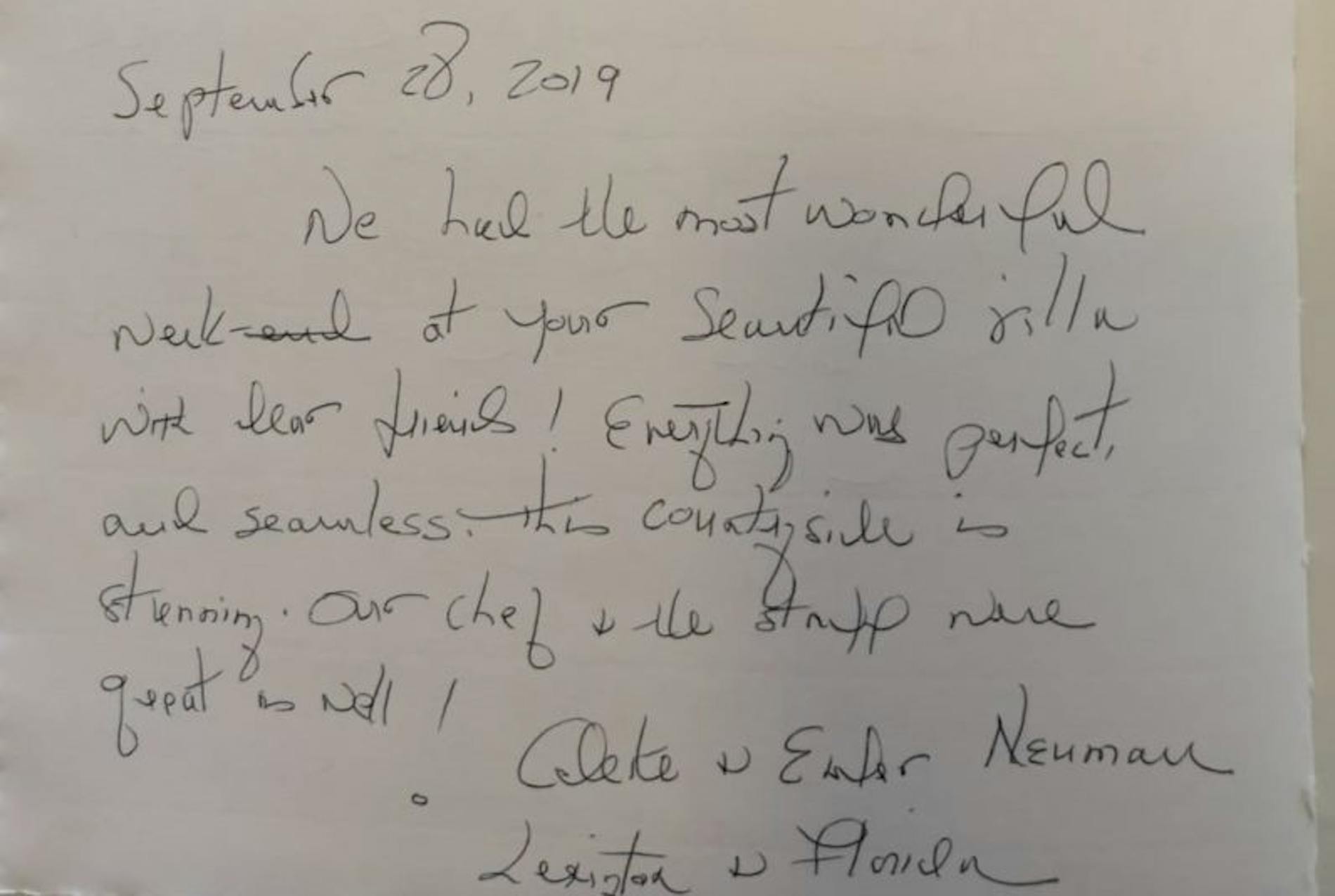 ---
"This villa is the most wonderful in such a lovely part of the world. It was a real treat to stay here. Our chef Daniele was super. Magnificent dinners. The breakfast were delightful too."
Cathy and Ed Stopher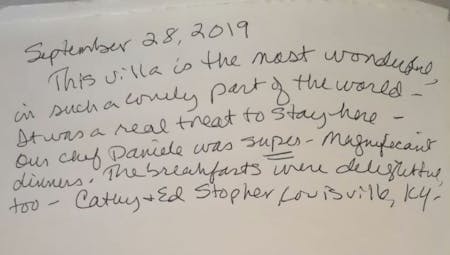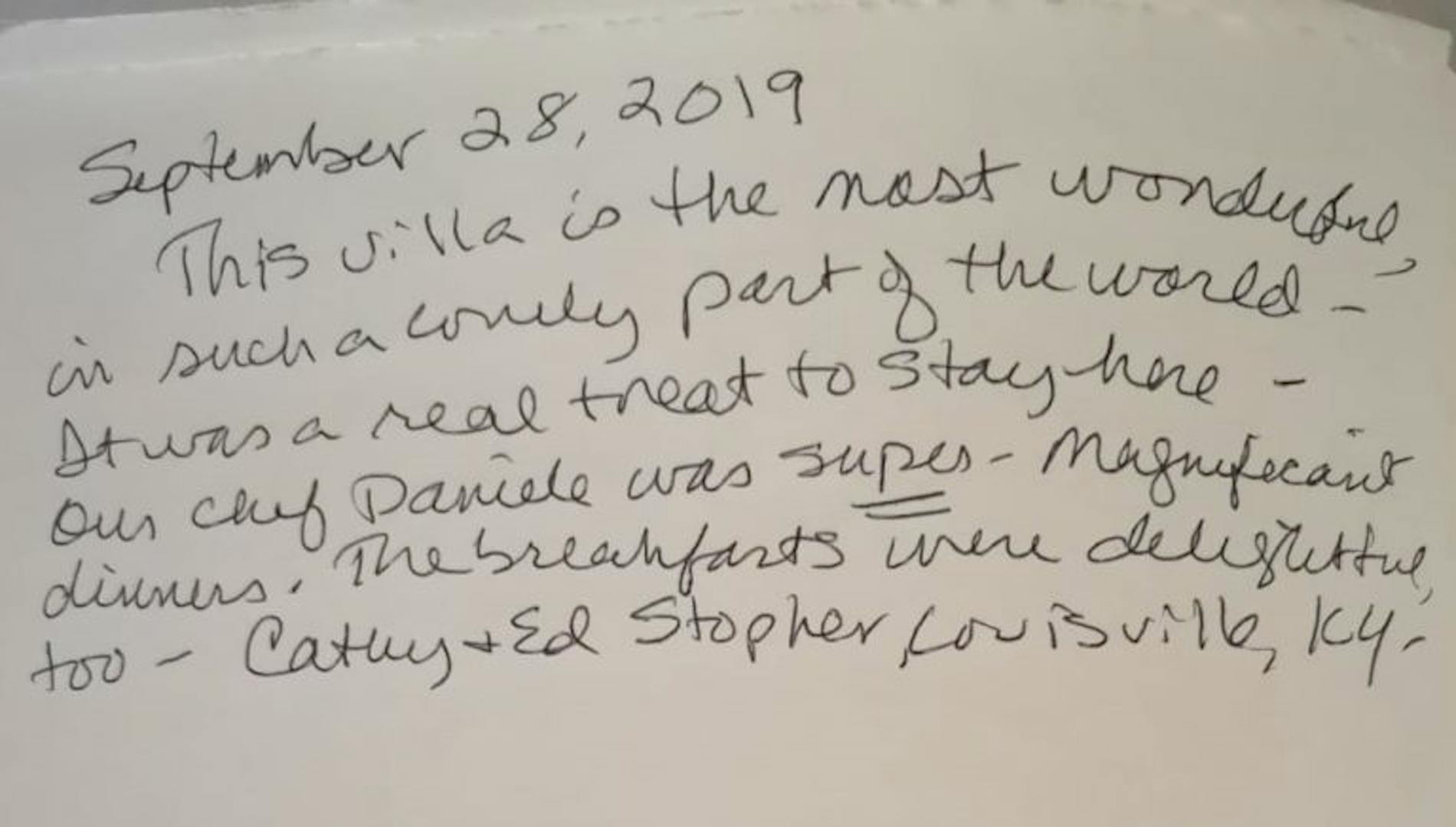 ---
"Many thanks to the people who made this trip for my Grandparents 90th happen. I'm sure this house has seen more crazy party adventures love and laughter than ever before."
Leila Prado


---
"A pictoresque setting and fantastic views plus ambiance. Couldn't imagine a week anywhere else."
Gabriela Prado


---
"Thank you very much for the magical memory of the magnificent Tavernaccia experience. It's indeed a fabulous villa to spend our first family bonding here. We had the most wonderful time! Lots of love from the family: God Bless."
Aziz Innerdale
Egypt, Hong Kong , London, Singapore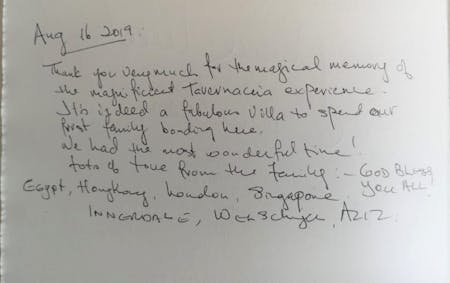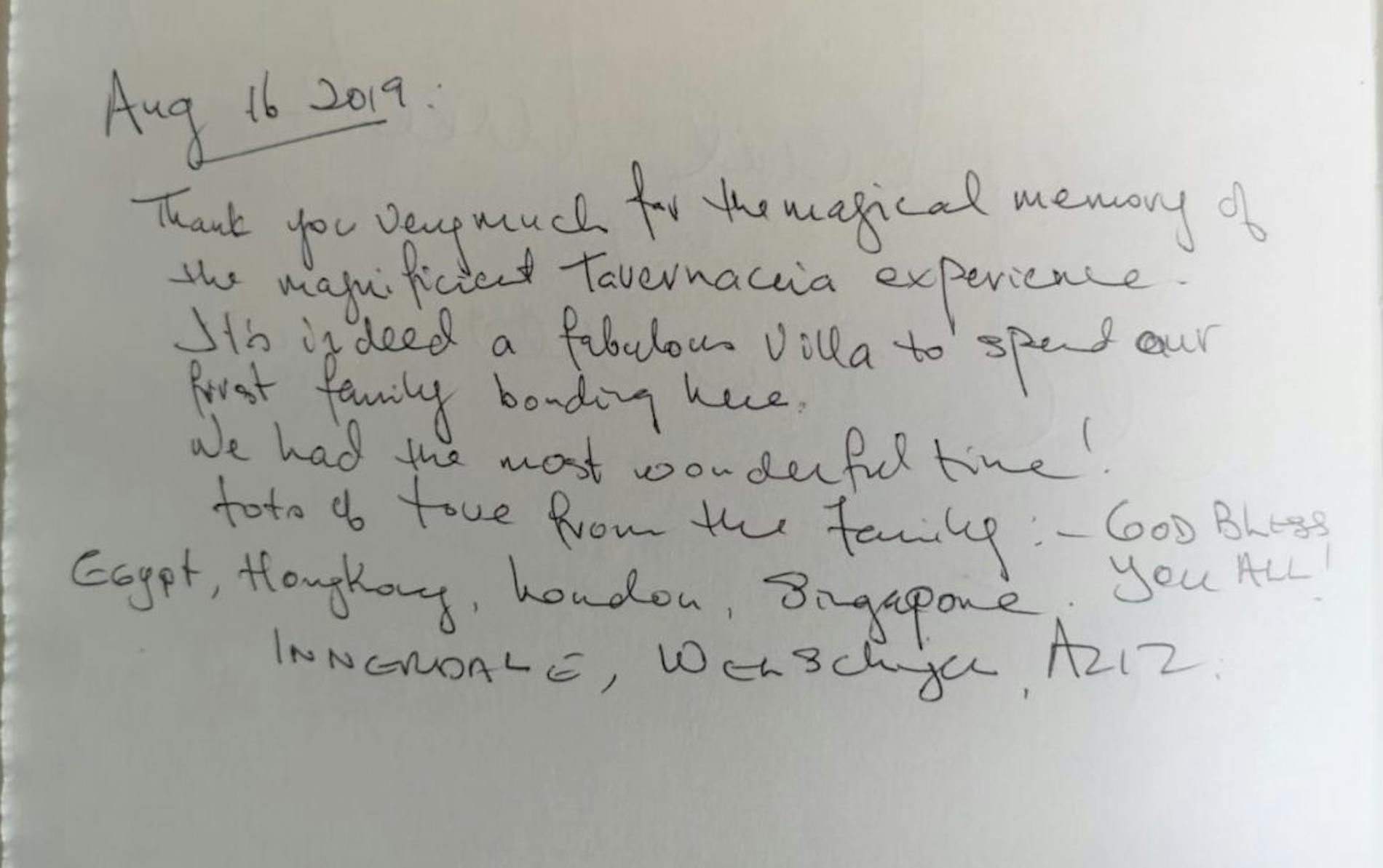 ---
"Dear Valentina, la Tavernaccia will occupy a very dear place in our family's memories. We would like to thank you and everyone who contributed to making this week so memorable. Your house and its magic garden have welcomed us made us feel immediately at home. Thank you for sharing this treasure with us. Please accept the game of Backgammon as a proof or our intention to return as soon as possible."
Anna Catherine, Annabelle, Max, Titi and Lewis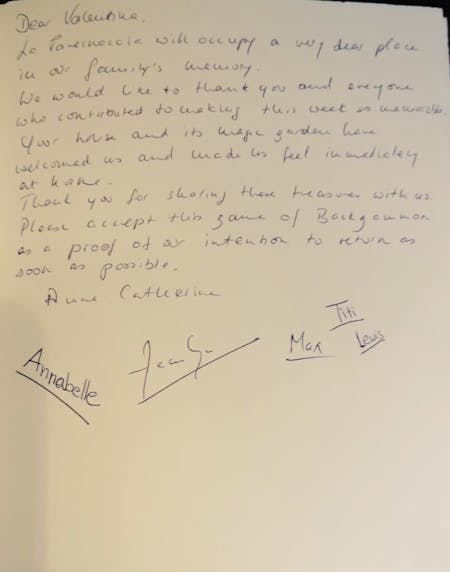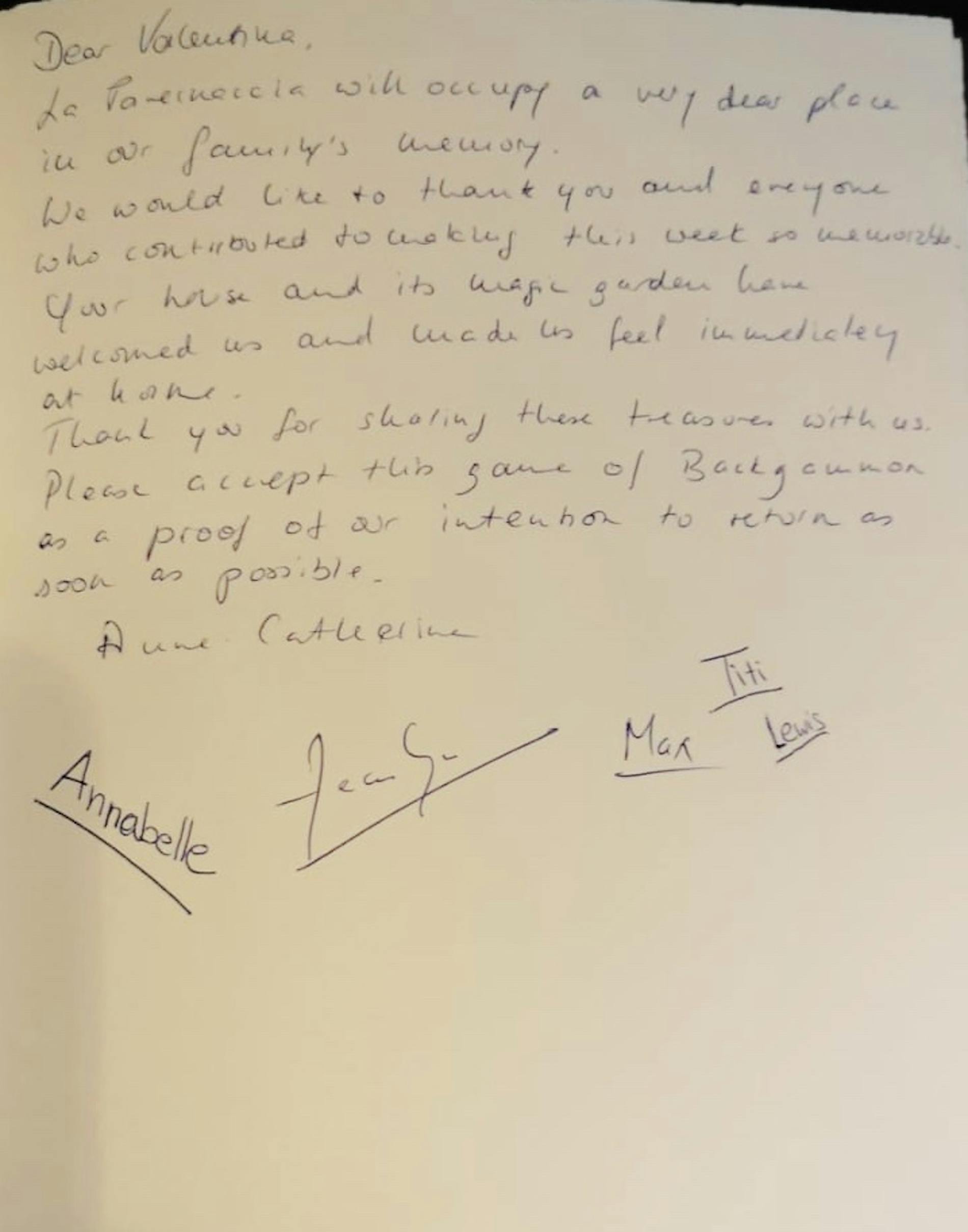 ---
"Despite the chilly weather we have had a wonderful week. Simone cooked out-of-this-world dinners and told us stories that made us laugh. Marcella is the kindest and most wonderful housekeeper and amazing laundress. Remus rebuilt beautiful fires and kept the place stocked with wood for chilly evenings. Always cheerful. Paolo gave us lovely baskets and always smiled. The house is wonderful, comfortable and we all had a great time."
Philip and Amy Mactaggart (and Fiona)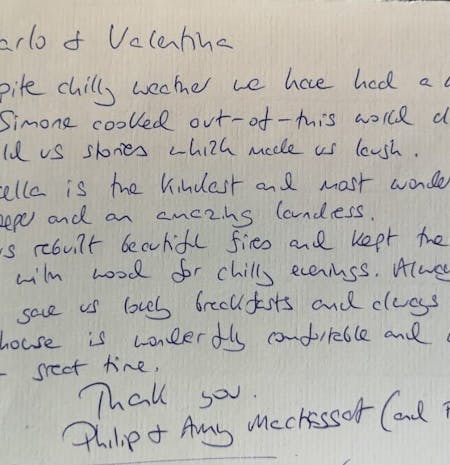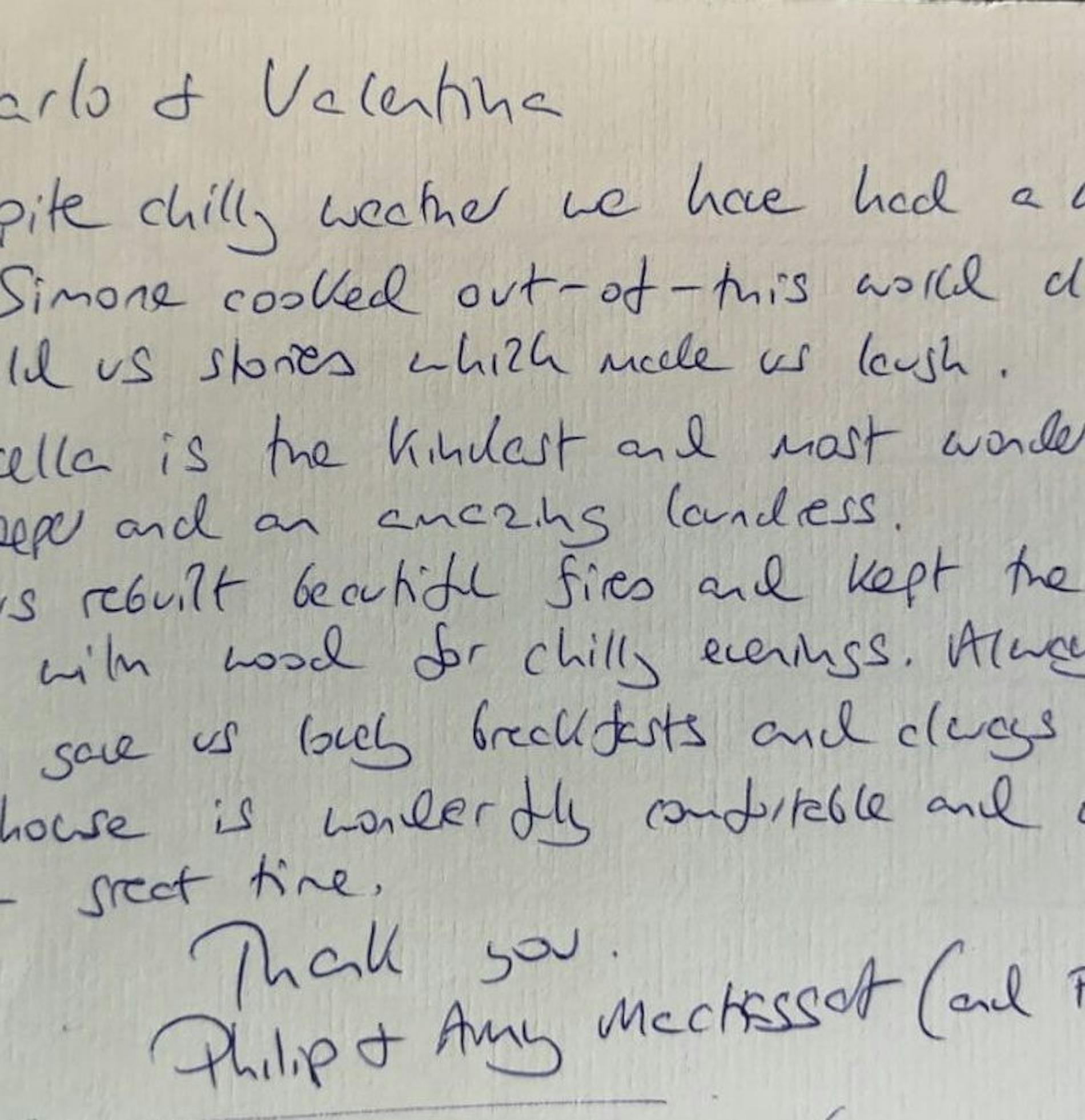 ---
"First of all, what a beautiful place, truly magical. But what made the difference was Donatella, Claudio and Marcella. Very polite and kind people that made our stay even more memorable. Hopefully my children Alberto (6 years old) and my daughter Annamaria (4 years old) remember this family trip. My daughter Martina (three months) surely won't… But we will remember all the moments. Warm wishes and many thanks."
Alberto Chamorro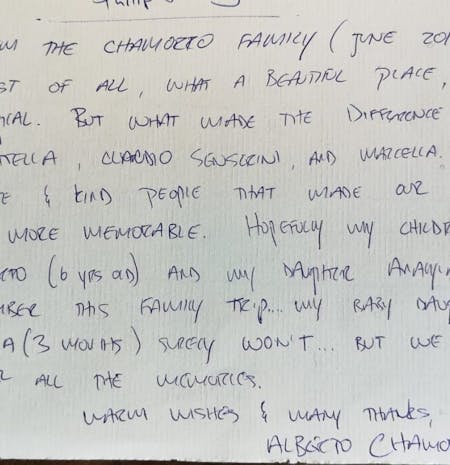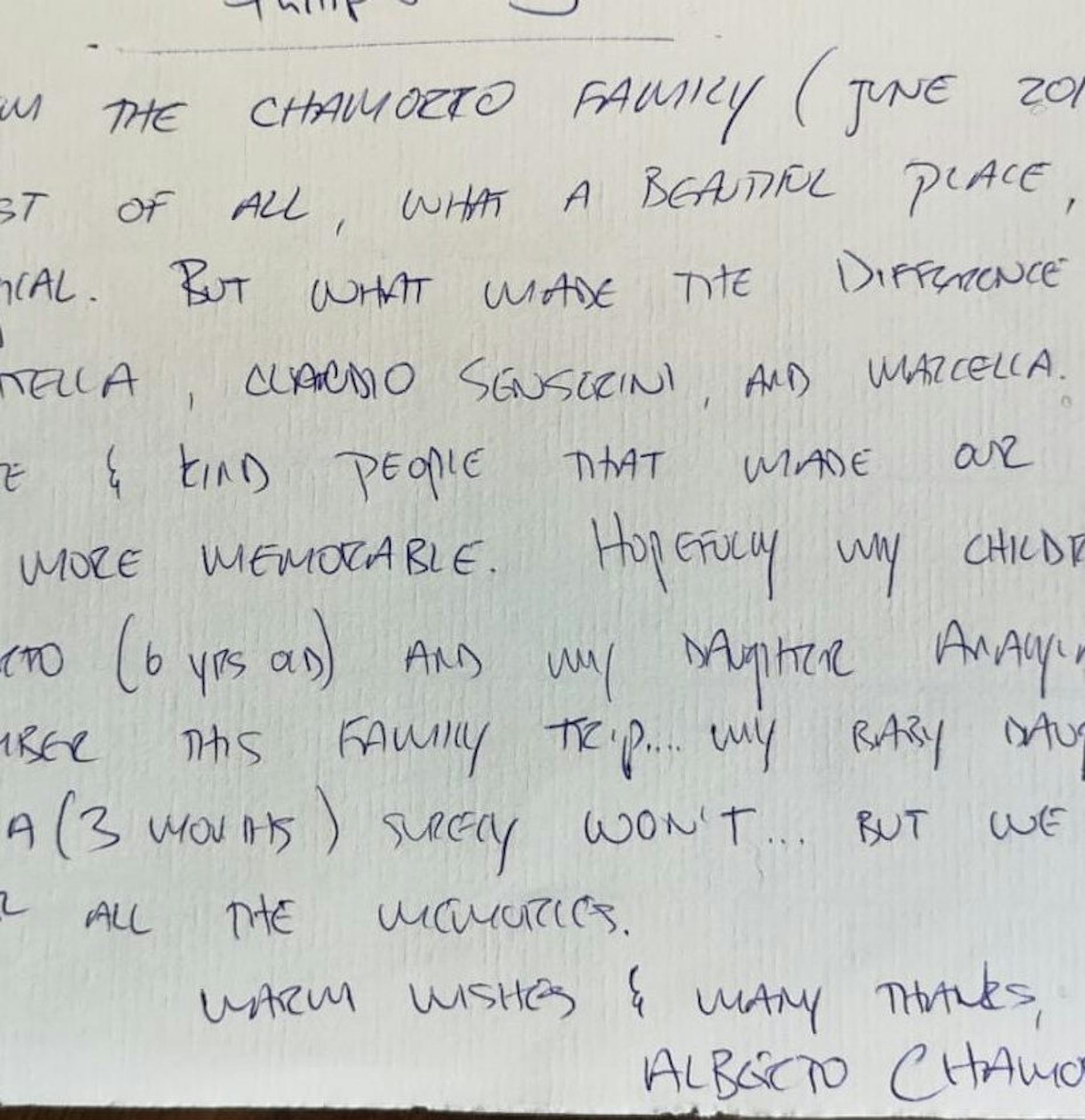 ---
"It has been a really wonderful week for all of our family. We could not have hoped for a more idyllic setting for our annual holidays. The time we spent here will forever remain in our collective memory."
Jeeb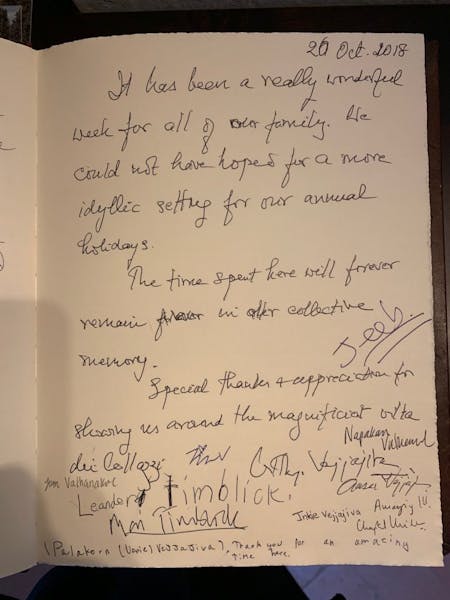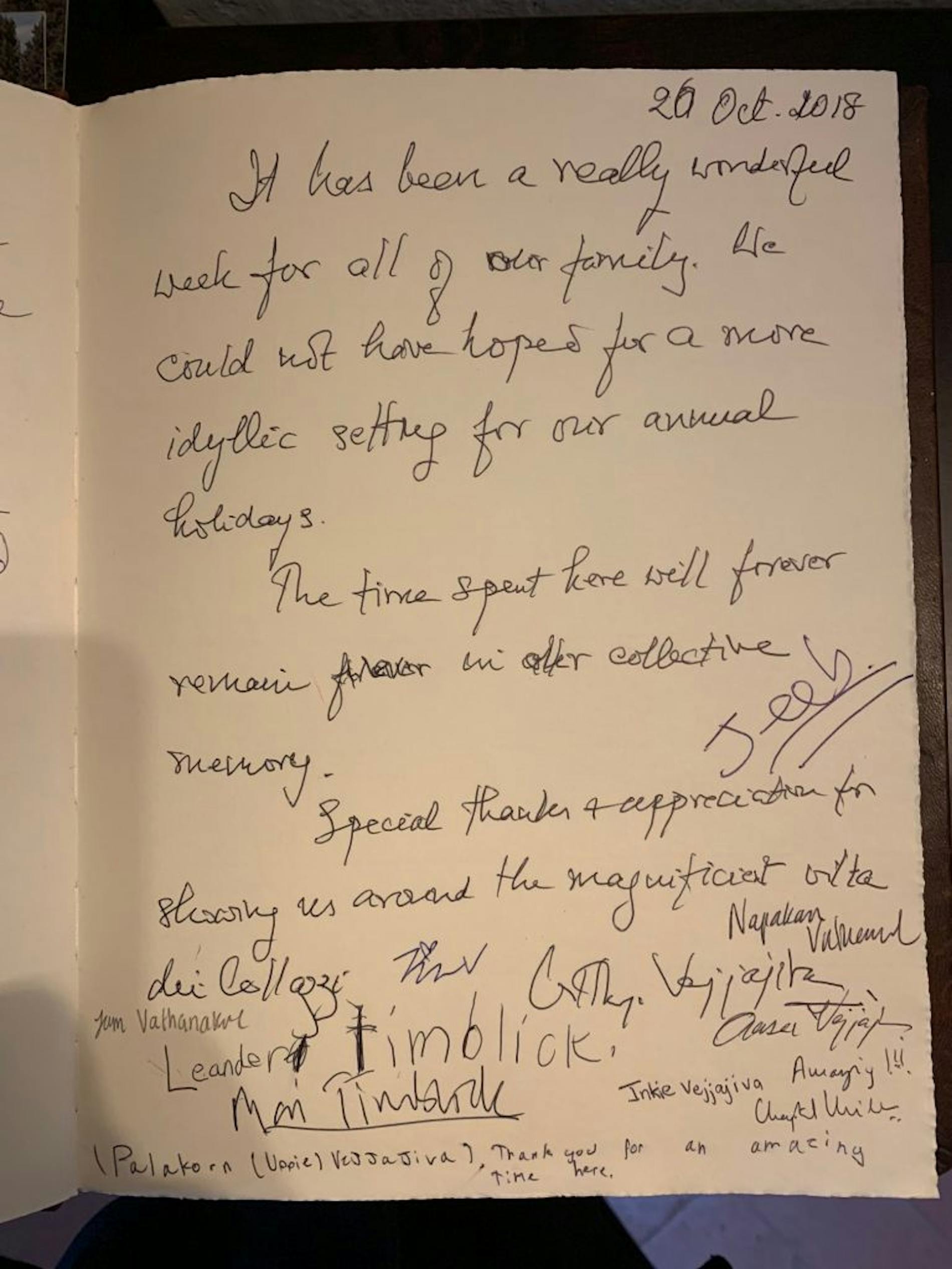 ---
"AMAZING villa and an even better host!!! Since we were flying in the morning of the booking, Valentina invited us to her own house, made us lunch and gave us a room to rest while the house was getting ready. Super hospitality throughout the trip too – she organised a great olive oil factory visit for us and personally took us through it! Thanks Valentina – we had an AMAZING time and will definitely recommend your house to friends and family."
Harsh Jain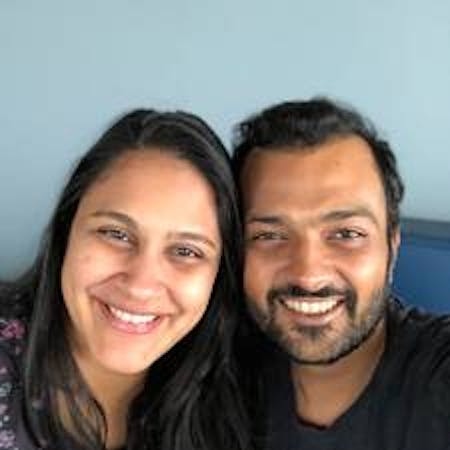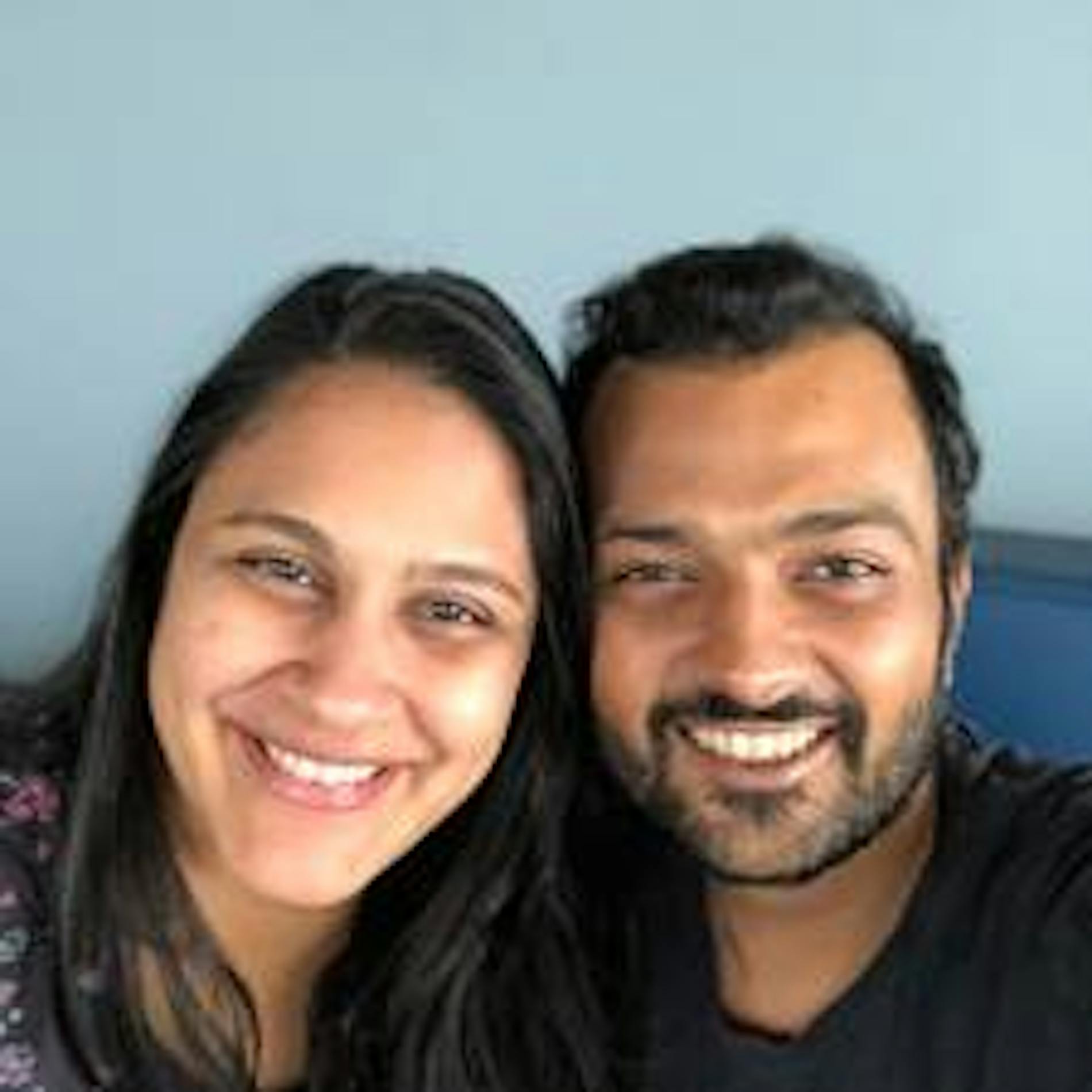 ---
"Dear Carlo and Valentina, what a wonderful Villa you have! We enjoyed our stay. Every detail was perfect, from the lovely decor to the most helpful and wonderful staff. Marcella attended to our every need and Simone is undoubtably the most talented chef I'm sure we will ever encounter. This has been one of the most memorable and enjoyable vacations we have ever had. We are already looking ahead to another magnificent stay at villa Tavernaccia. Till the next visit we wish you all the best."
Shirley Prince and the Baddour entourage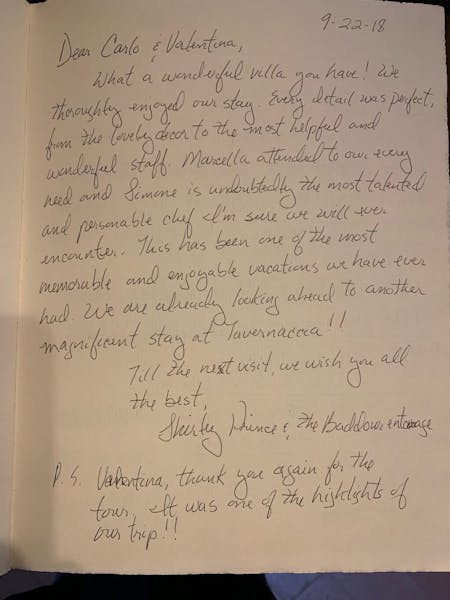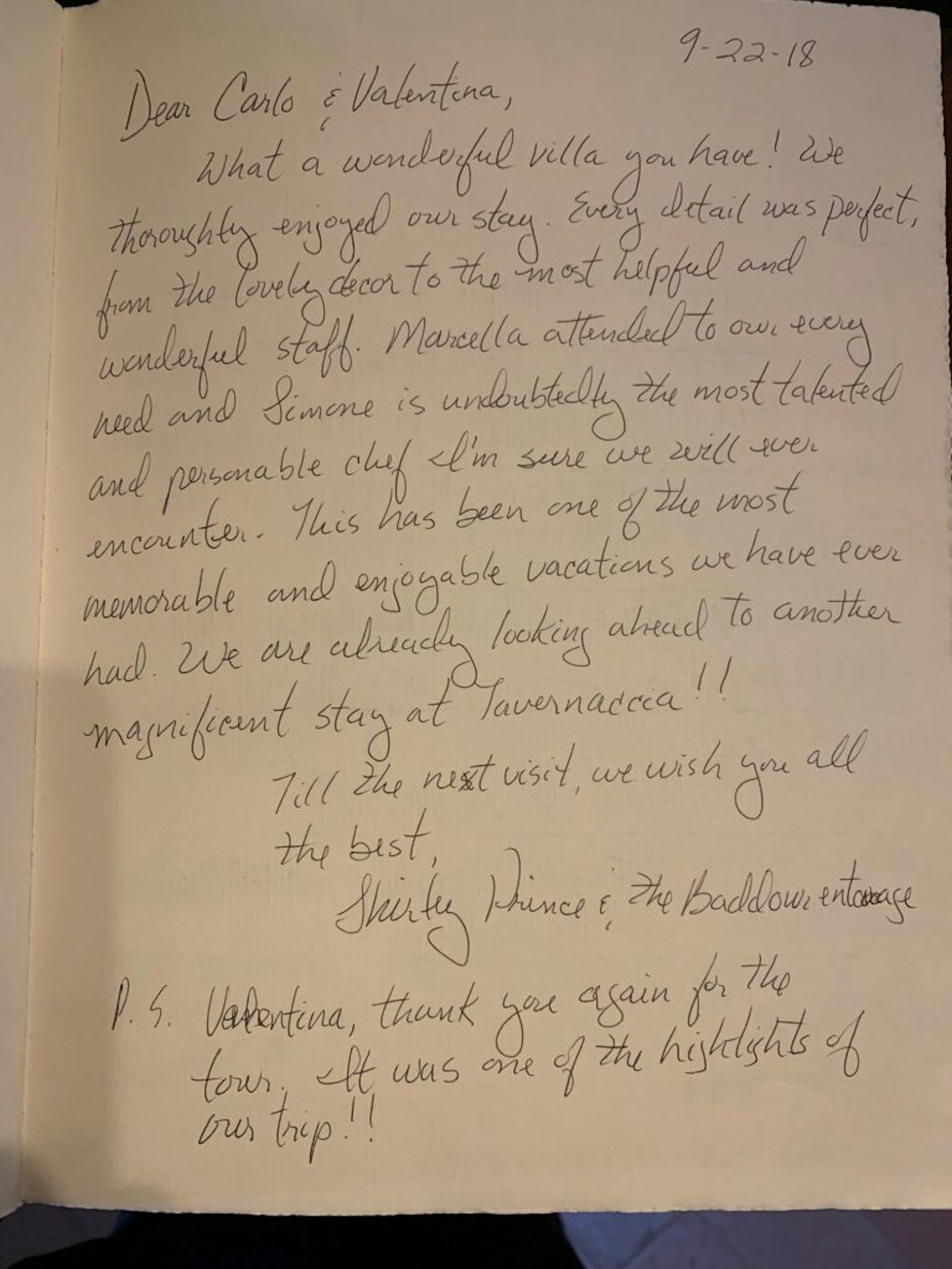 ---
"What a wonderful time we all had at Tavernaccia. Perfect weather every day, kids enjoyed playing tennis and swimming. A few side trips to Firenze, Bolgheri and Siena. Thank you for sharing your incredible villa with us."
Bob, Andy Scace and family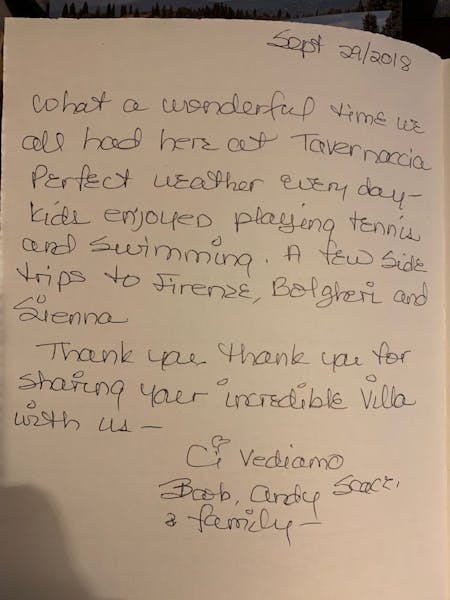 ---
"We have so enjoyed sharing our family vacation in this beautiful villa! Every detail is so appreciated! The food prepared lovingly and creatively by Simone assisted by Rafa! And of course the beauty of the natural sorroundings of the villa! We will never be able to top this fantastic trip!"
The Schenendorfs, Francks and Eglestones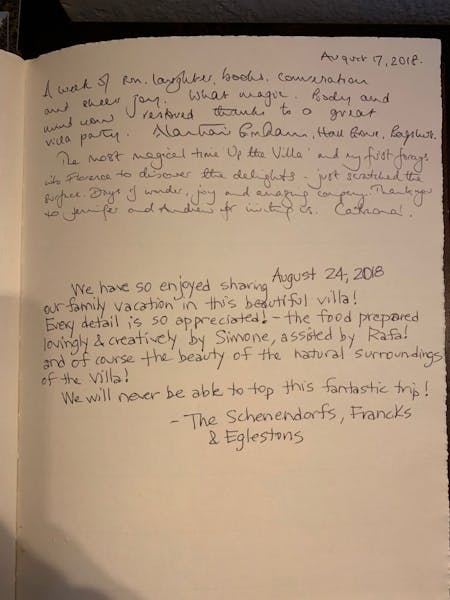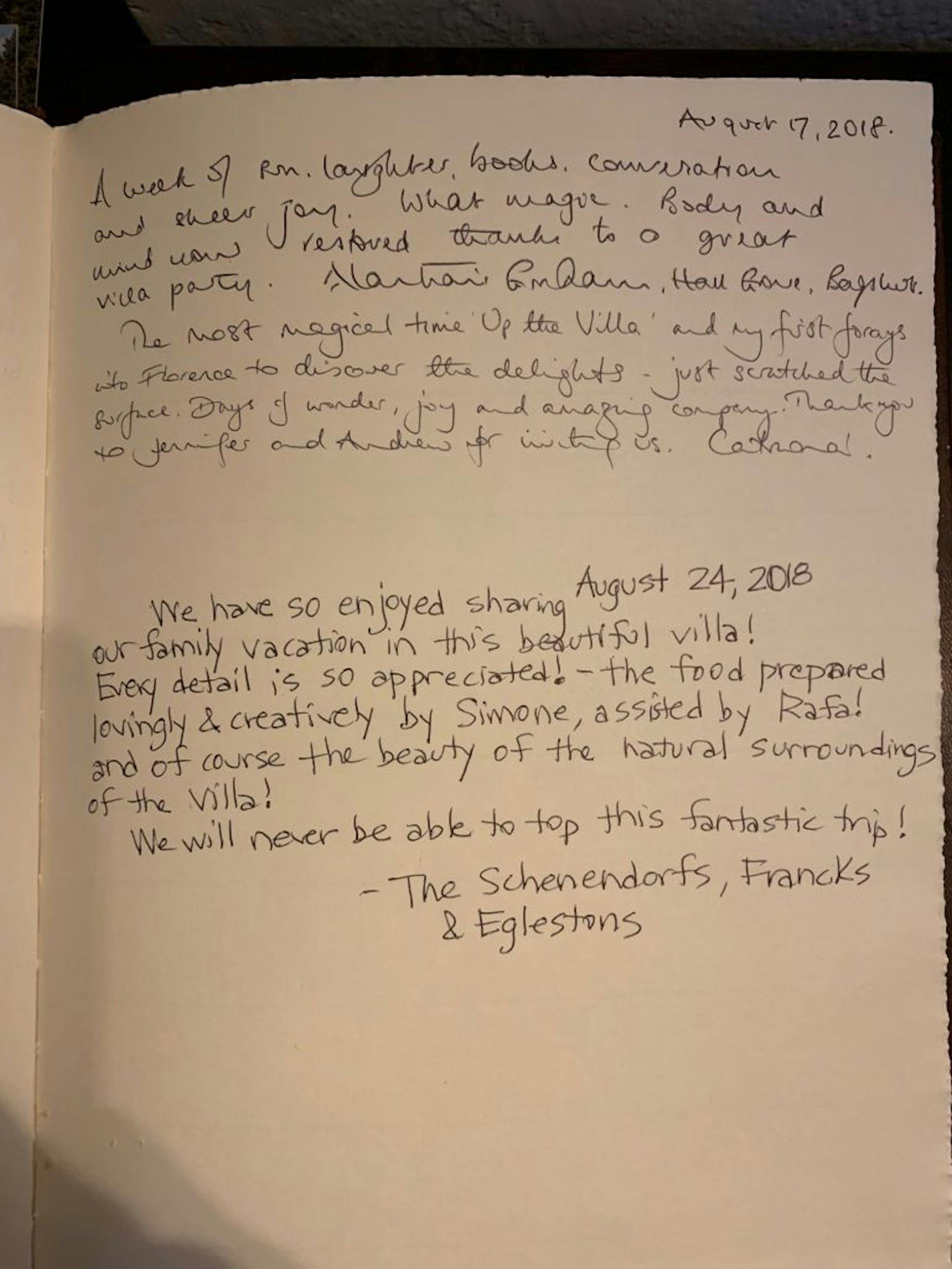 ---
"Thank you for an unforgettable week in this beautiful villa! Impossible to single out a favourite moment: exceptional tours of museums, wonderful wine tasting, plus time at the pool with the kids, amazing meals from chef Simone. A week of incredible memories All the best Stephens family The most beautiful villa in Italy a very memorable memorable week! Special thanks to Simone for the wonderful meals and to Marcella for taking care of us all week."
The Brown family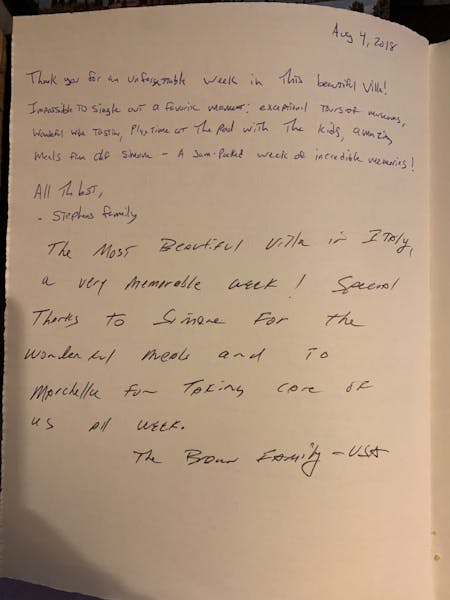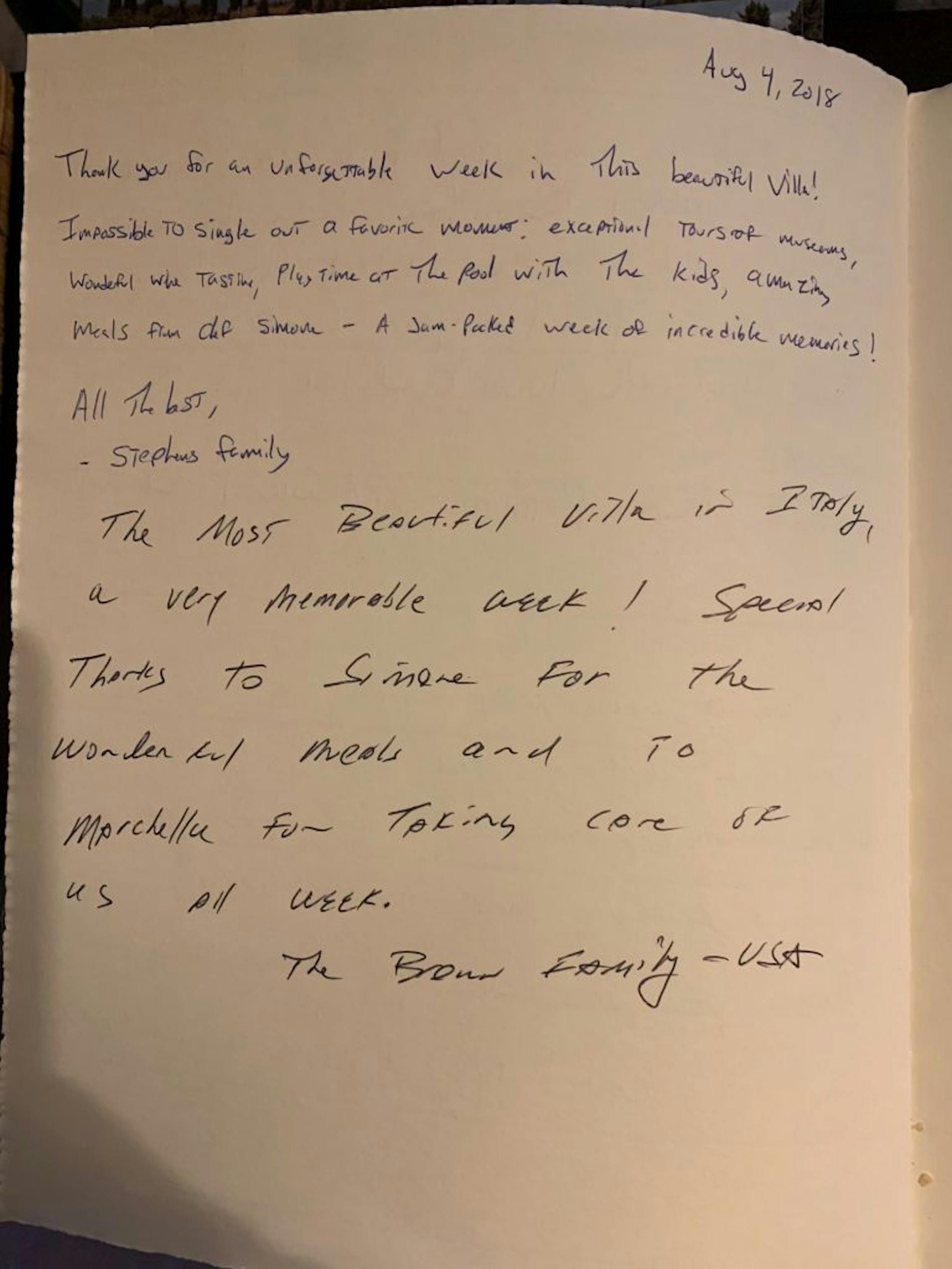 ---
"We have had an exceptional week here! Simone and his beautiful team have been the best hosts we could ever wished for. Thank you to all of you for your fantastic service. Wishing you all luck and love for the future! Namasté!"
Harriet, Max Pioli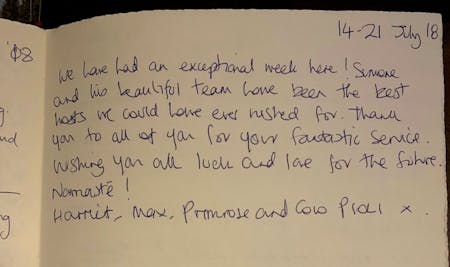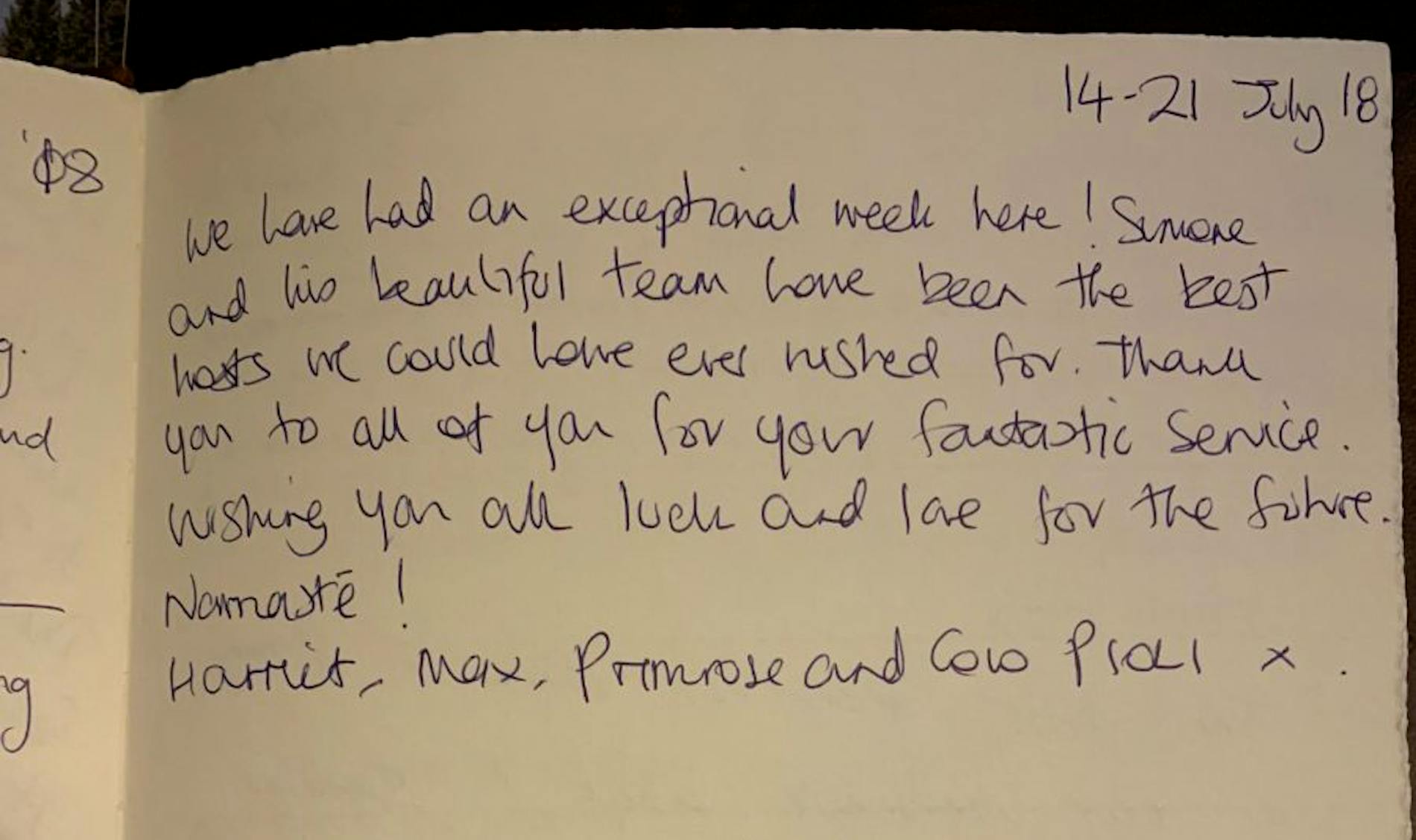 ---
"The most beautiful Tuscan villa in an incredible setting, the food was the best we've ever experienced. Thank you Simone! Such a friendly and helpful team… Thank you so much to all of you!"
Olly, Laura and Isabella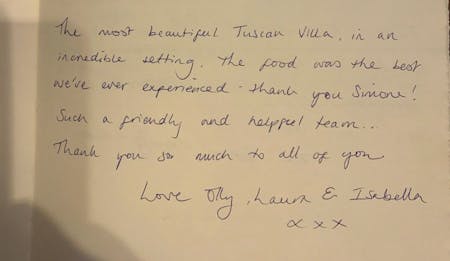 ---
"We're sad to be leaving Villa Tavernaccia after an unforgettable stay in this beautiful setting. In particular Simone, Rafael, Paulo, Marcella and Remus have all been wonderful. Unfortunately our clothes seem to have shrunk in this climate – or could it possibly be Simone's totally outstanding cuisine. Thank you so much to everybody."
Liz and Brian Horner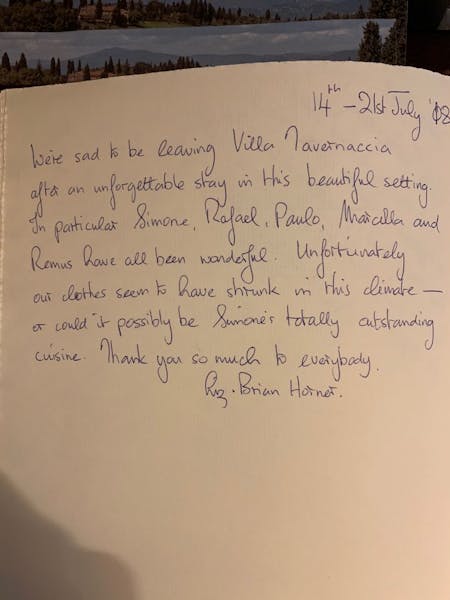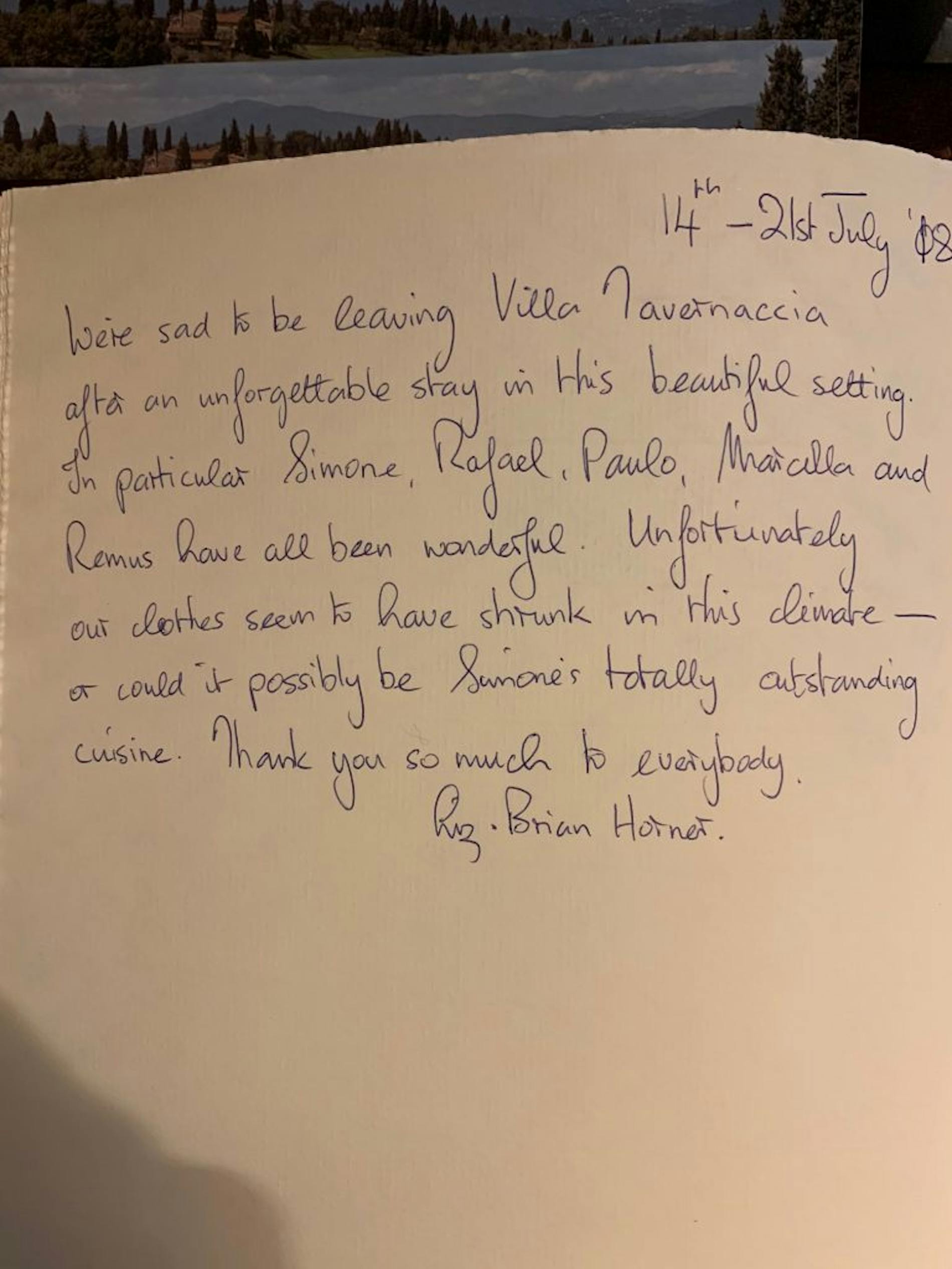 ---
"Villa Tavernaccia! what an awesome place to spend a week with friends. The house and grounds were to die for. Can't wait to come back and do it again."
Brad and Michele Smith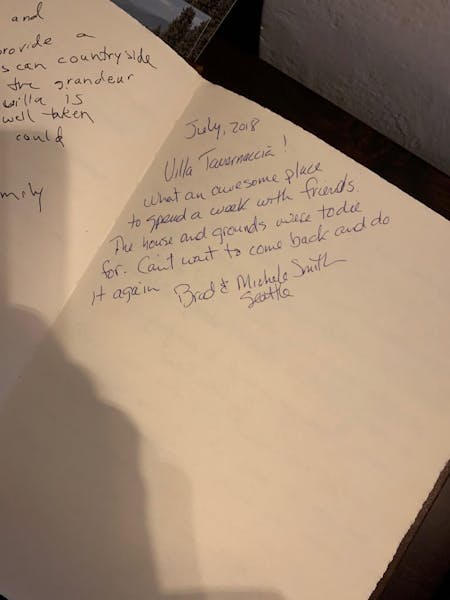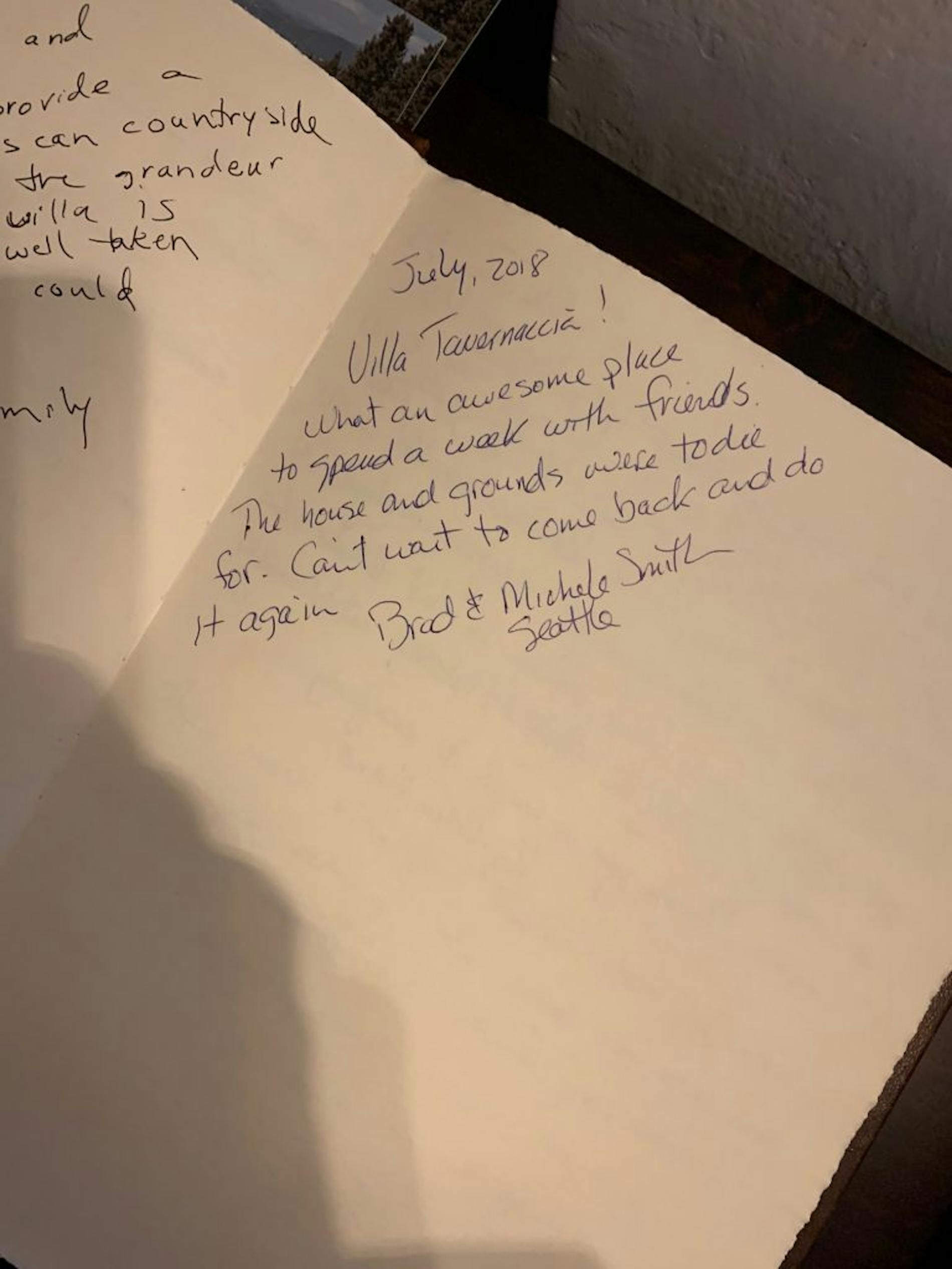 ---
"Our family of then had a perfect vacation. Everything about the beautiful villa is amazing. The attention to details, the cleanness, the charm and beauty of the surroundings areas provide a perfect place to enjoy the Tuscan countryside. We were pleasantly surprised by the grandeur of Tavernaccia and the way the villa is cared for, it is obvious that it is well taking care of. The vacation (and Villa) could not have been better."
the Quicke family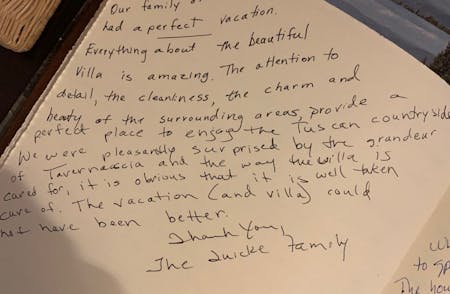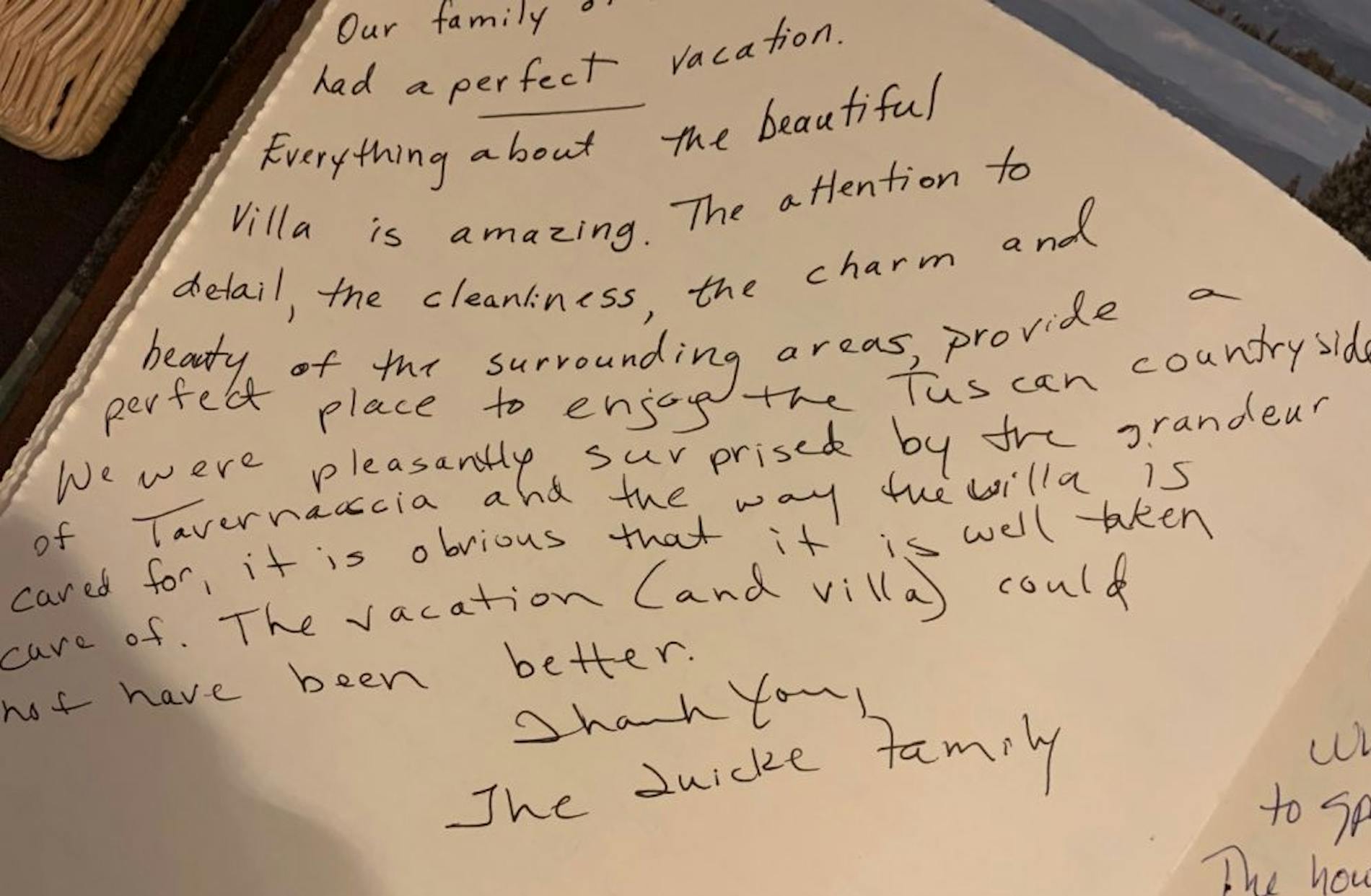 ---
"Dear Valentina, thank you very much for the lovely tour of Villa Collazzi. We appreciated our time spent at the lovely villa . So happy hour we were able to see such a magical place. Just would also like to thank you all for such a pleasant stay at this wonderful Villa breath taking views, beauty of the Villa most amazing. Only complaint: not enough time here. if you are ever in our area LA Malibu please give us a call."
Cynthia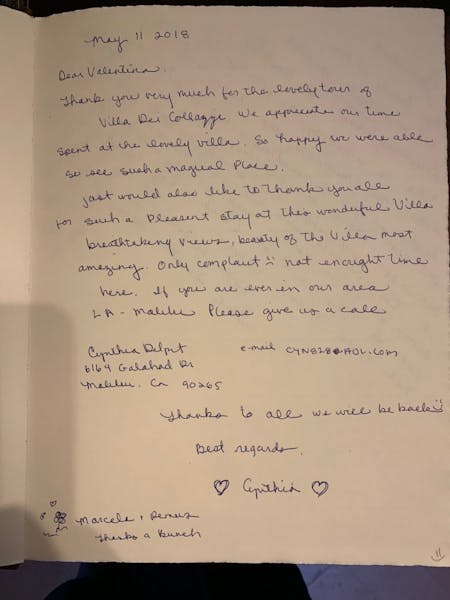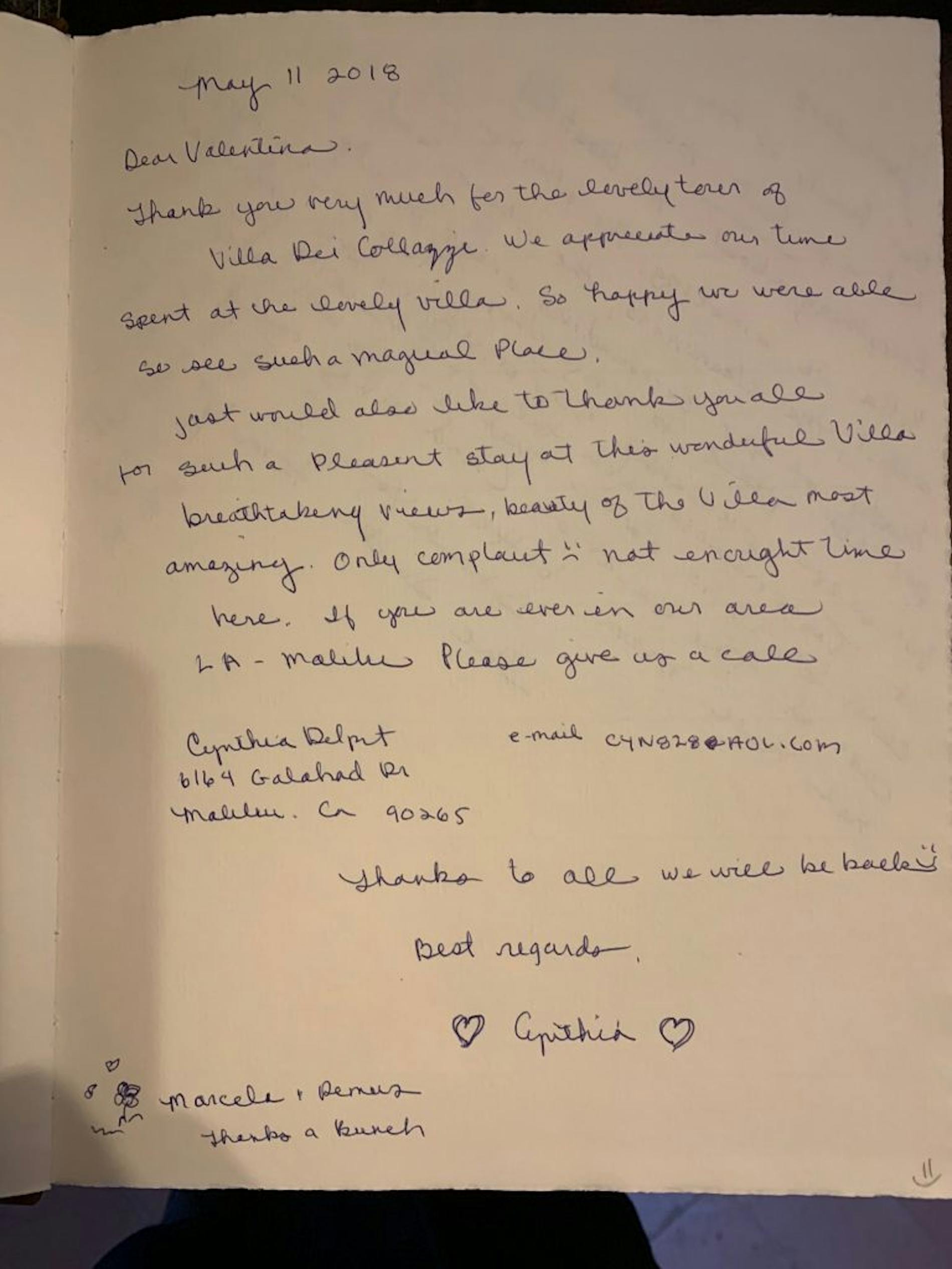 ---
"Dear Valentina, thank you so much for a wonderful few days here at the villa. It has certainly made our first trip to Europe Italy memorable!! We have never seen views that compare to here; it is really a magical place and we hope to visit again sometime! Maybe we will see you at the next desert trip."
Alex Rose and Yvonne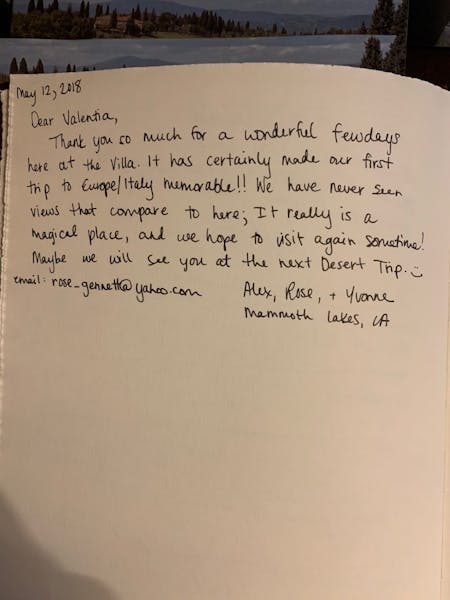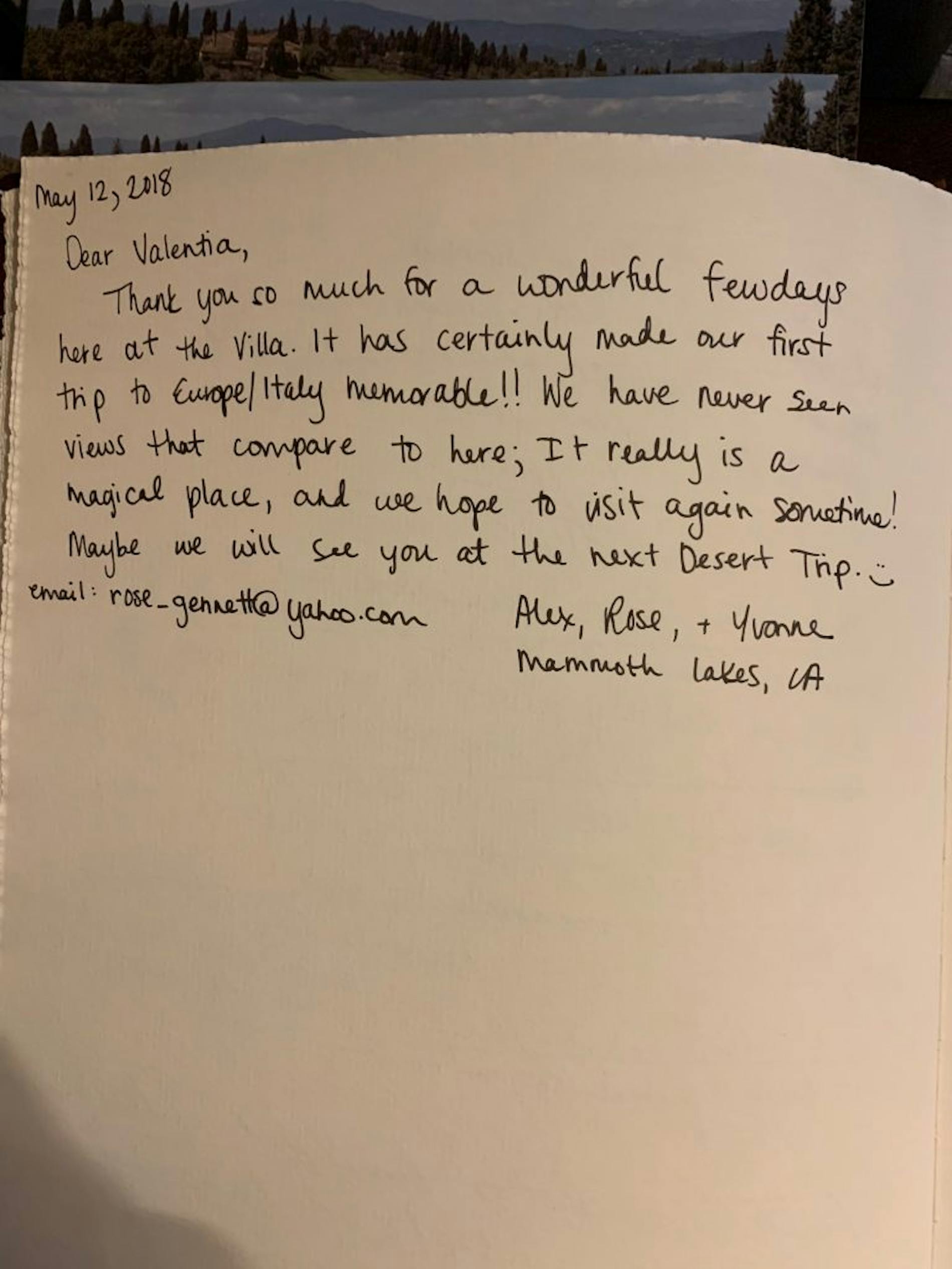 ---
"Thank you for a beautiful week in the gorgeous hills of Tuscany. Marco and his family made each day an adventure. It will always be a treasured family memory."
Karen, Mike, Colleen Cotis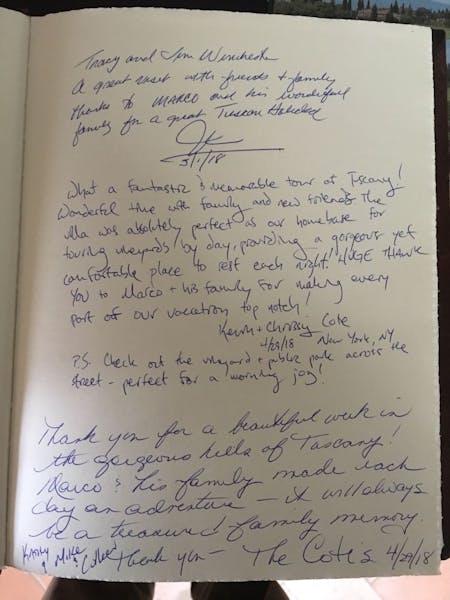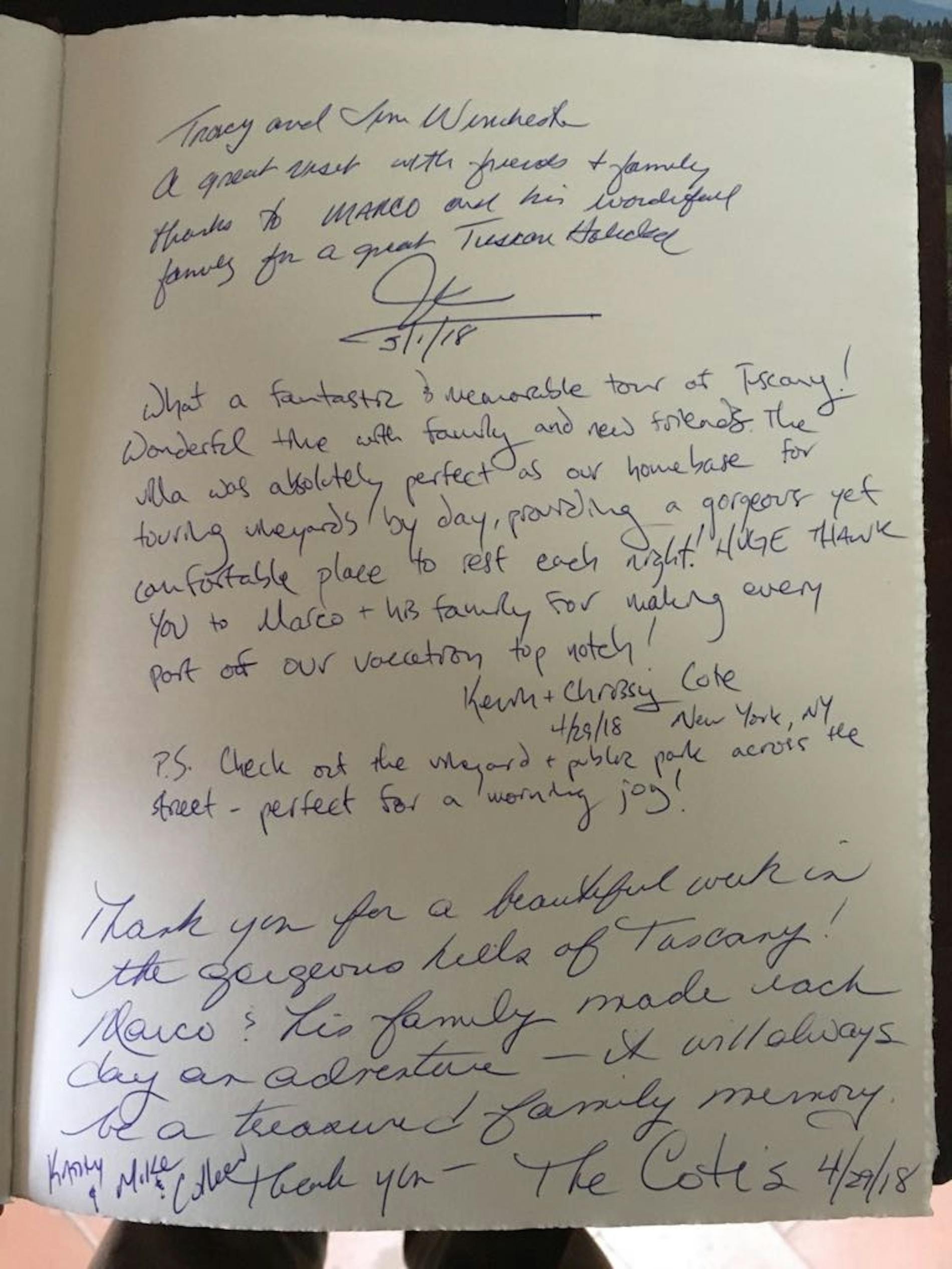 ---
"What a fantastic and memorable tour at Tuscany. The villa was absolutely perfect as our home base for touring by day, a gorgeous and comfortable place to rest each night. Huge thank you to Marco + his family for making evert part of our vacation top noted!"
Kevin and Chressy Cote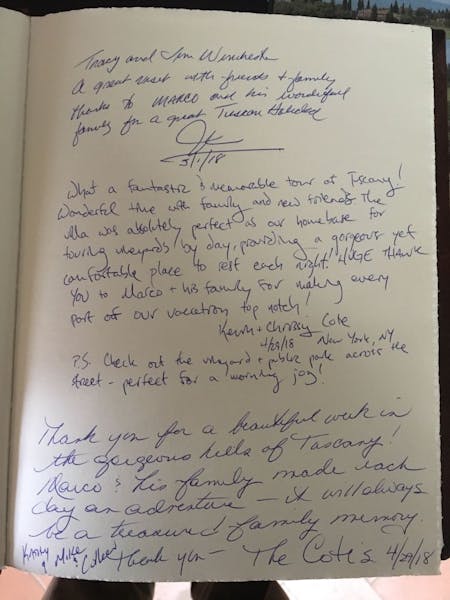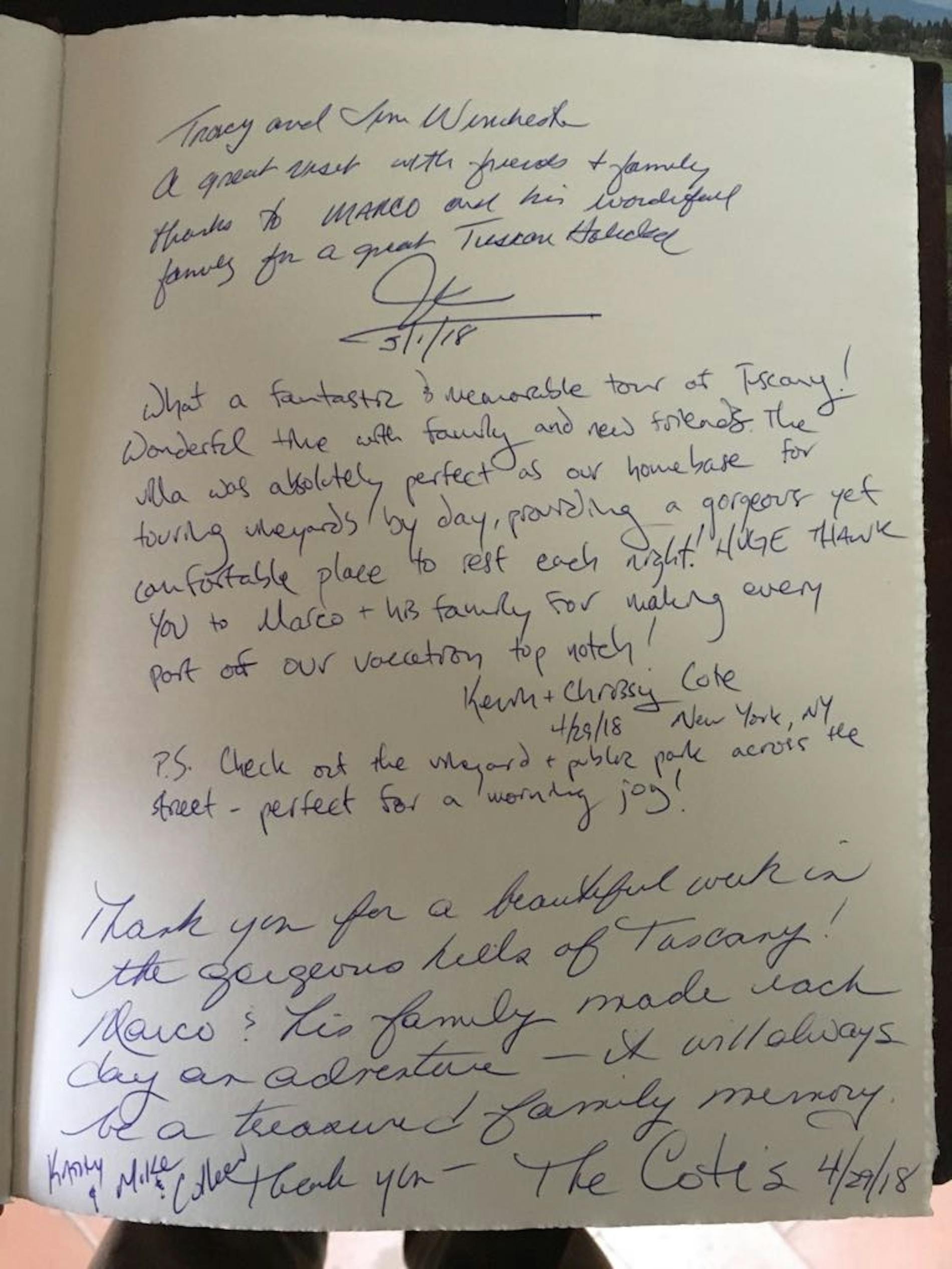 ---
"Jim and I enjoyed our trip immensely. It is always better with the Tuscan sum. Hopefully we'll be able to visit again."
The Ramos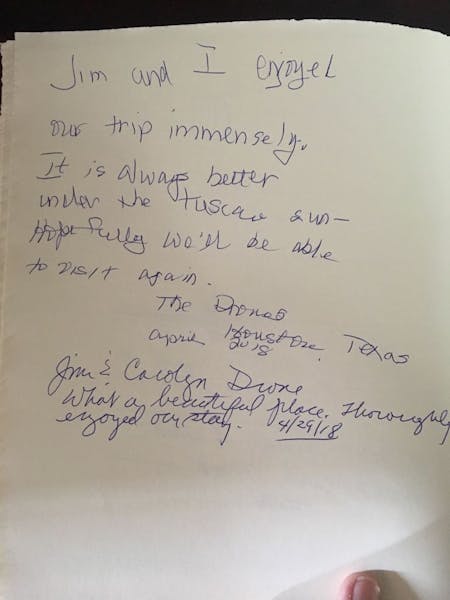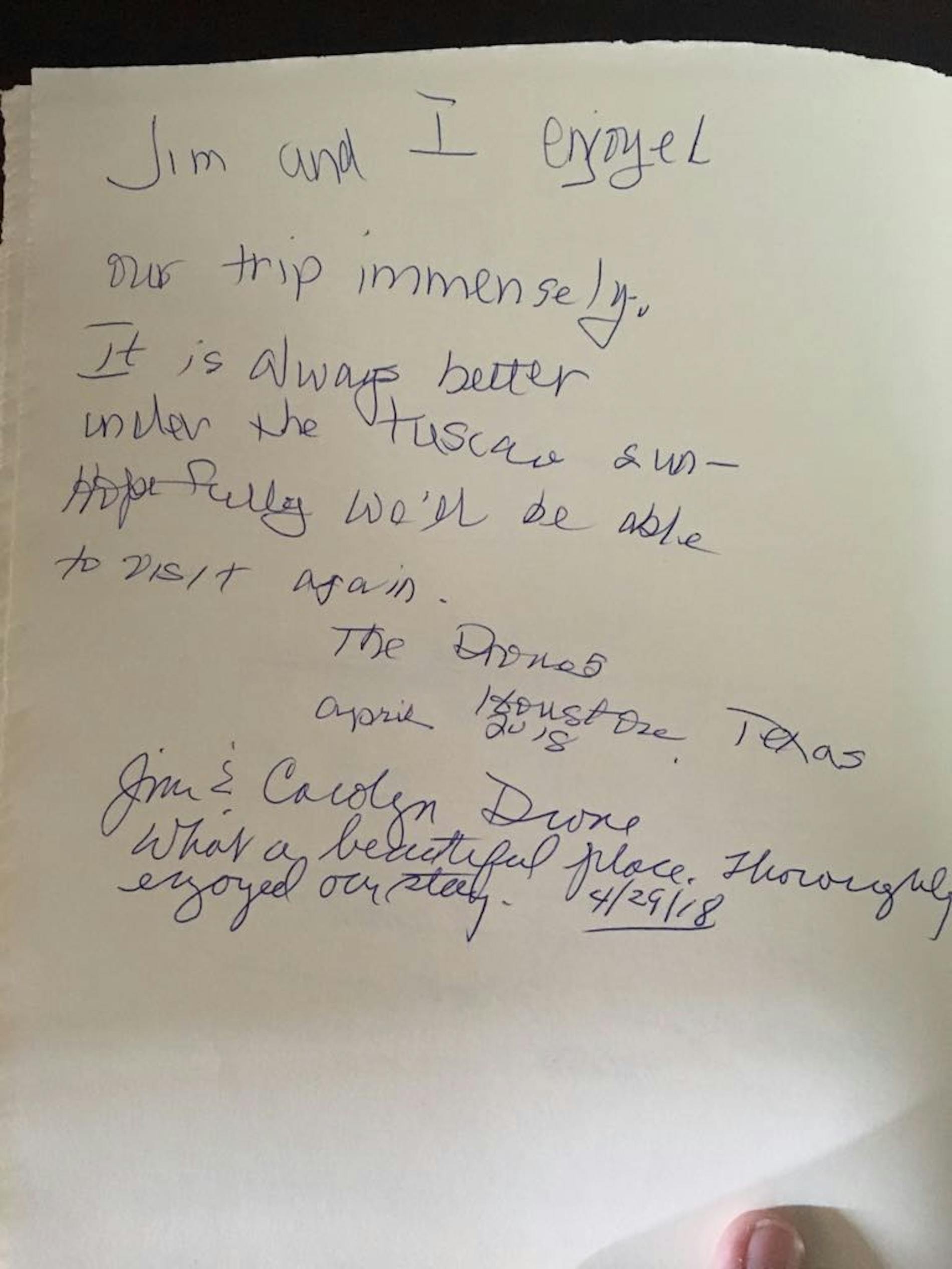 ---
"Thank you for an unforgettable holiday! Outstanding villa and staff!"
Matilda Ruiz de Velasco


---
"We had a great time! Thank you for a wonderful time here, also the food couldn't have been better and the staff!"


---
"Great time, in great company in a great place. I will return…" "Absolutely marvelous! Thank you very much to everyone. And i will also return…" "Thank you for your hospitality, un unforgettable stay in a stunning villa!" "Couldn't have been better!!" "Everything has been perfect! Hope to come back soon! Thank you!" "Everything and everyone, just wonderful!"
Pepe, Jaime, Juan Ruiz de Velasco, Clara, Regina and J Trevino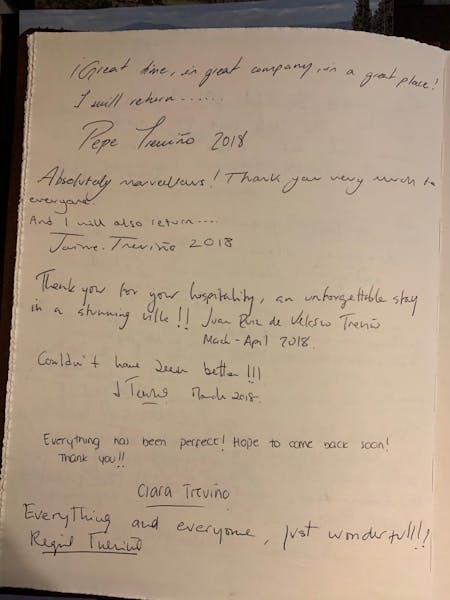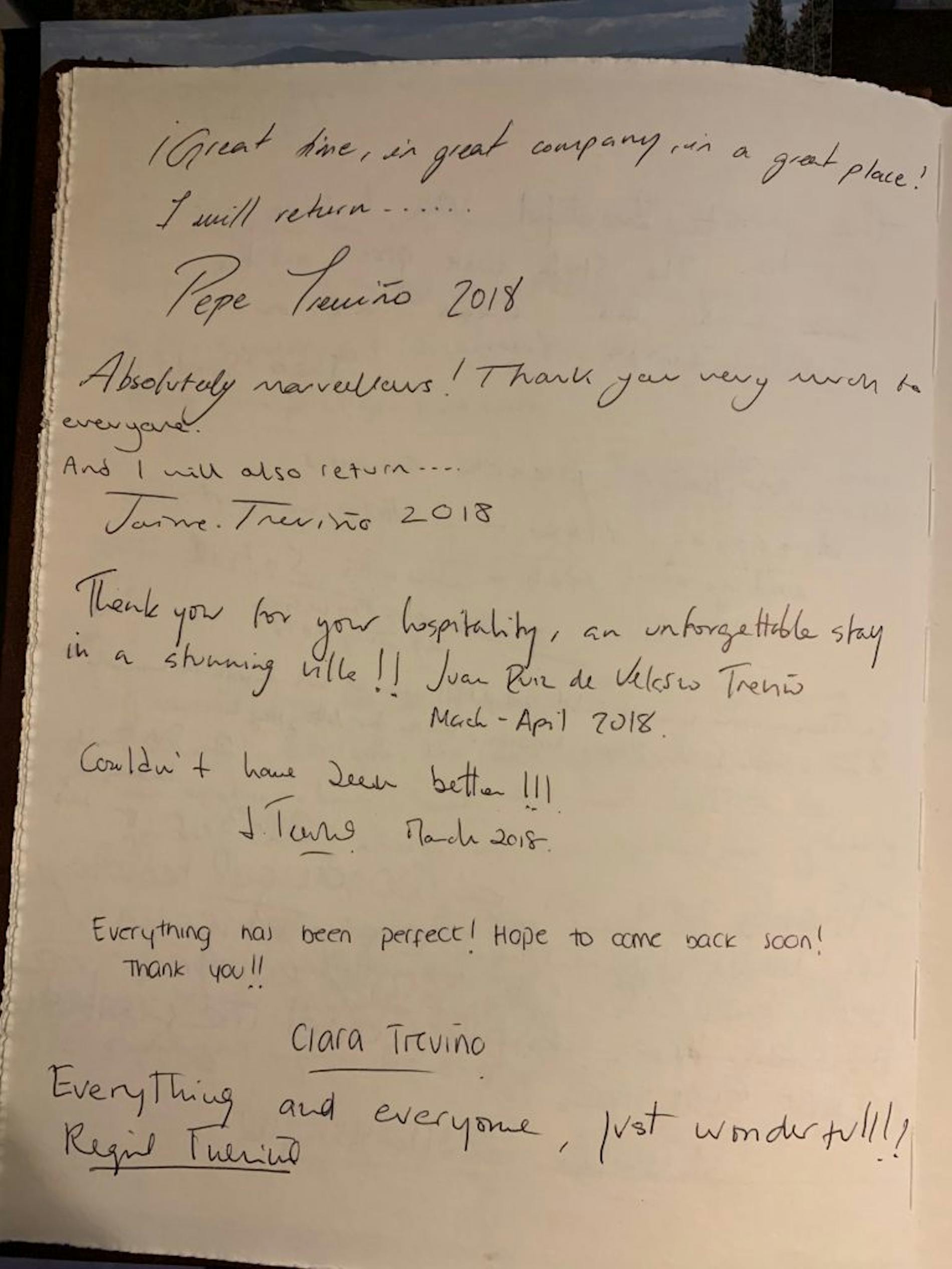 ---
"Where peace comes dropping slow… We must arise and go now."
Ron and Junko Sokol


---
"La Tavernaccia was absolutely delightful and we will cherish the memories of our 3 weeks within Tuscan treasure. Thanks for letting stay here."
The Sokol Family

---
"An unforgettable stay in a stunning villa and location. Everything was perfect including the staff who was so helpful and friendly. As Ella, 4 years old, said: I want to stay here for ever and ever! Thanks again for your hard work."
Daniel + Samantha Sokol plus Ella (4) and Nichols (0)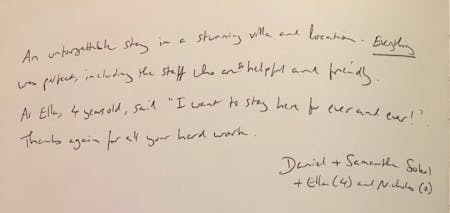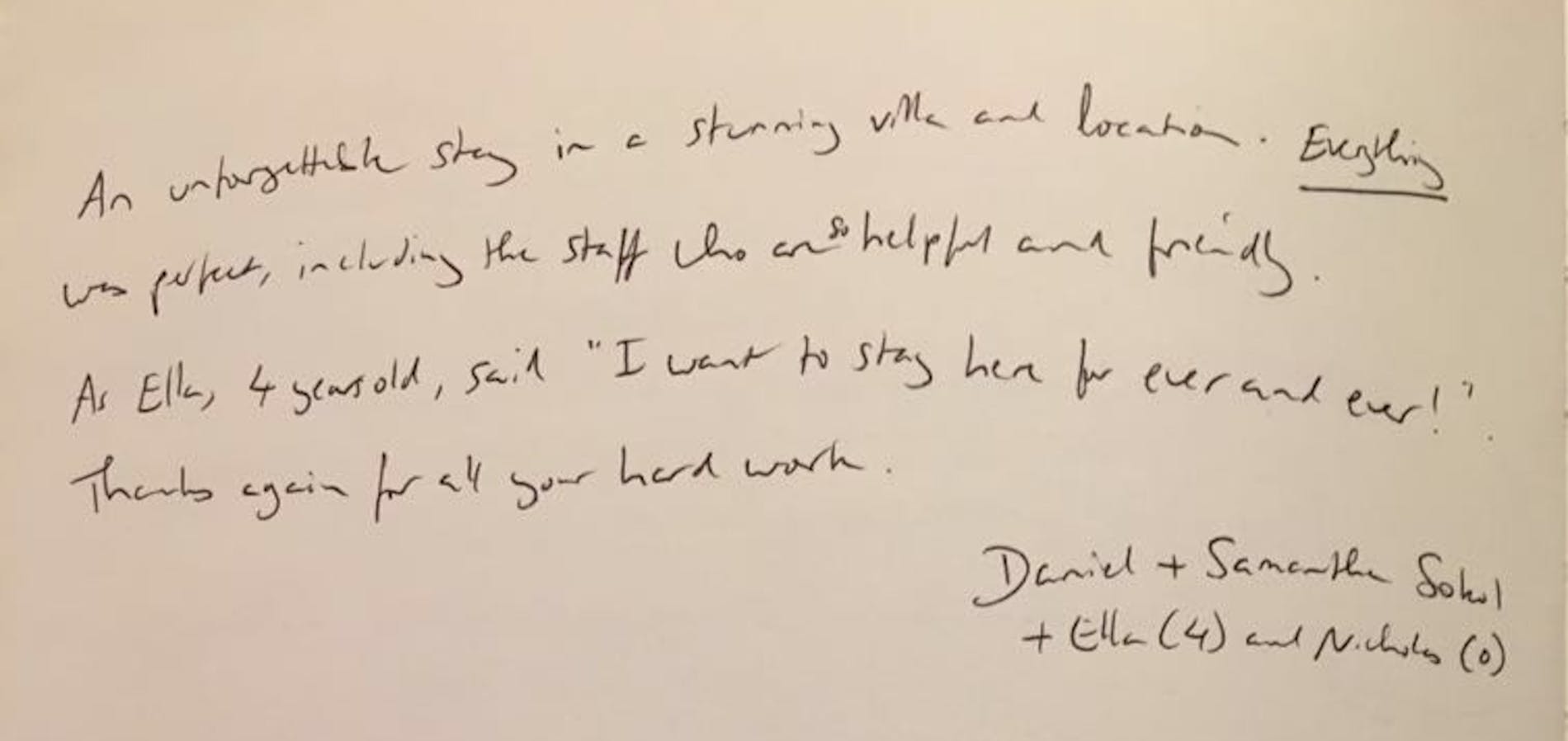 ---
"Thank you so, so much. For an amazing time at this villa, the food was brilliant, the rooms "squeaky clean" and the facilities in general were always an open option to my family and I. Having stayed here for three weeks this summer and for another week last, I would gladly say yes to an invitation back here. Thank you again for everything."
Charlie Sokol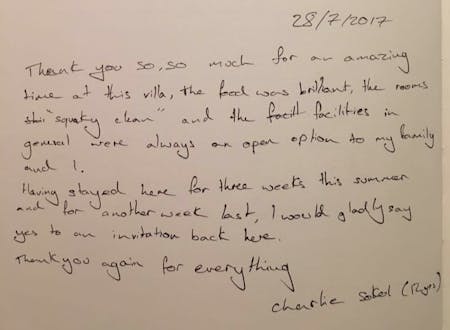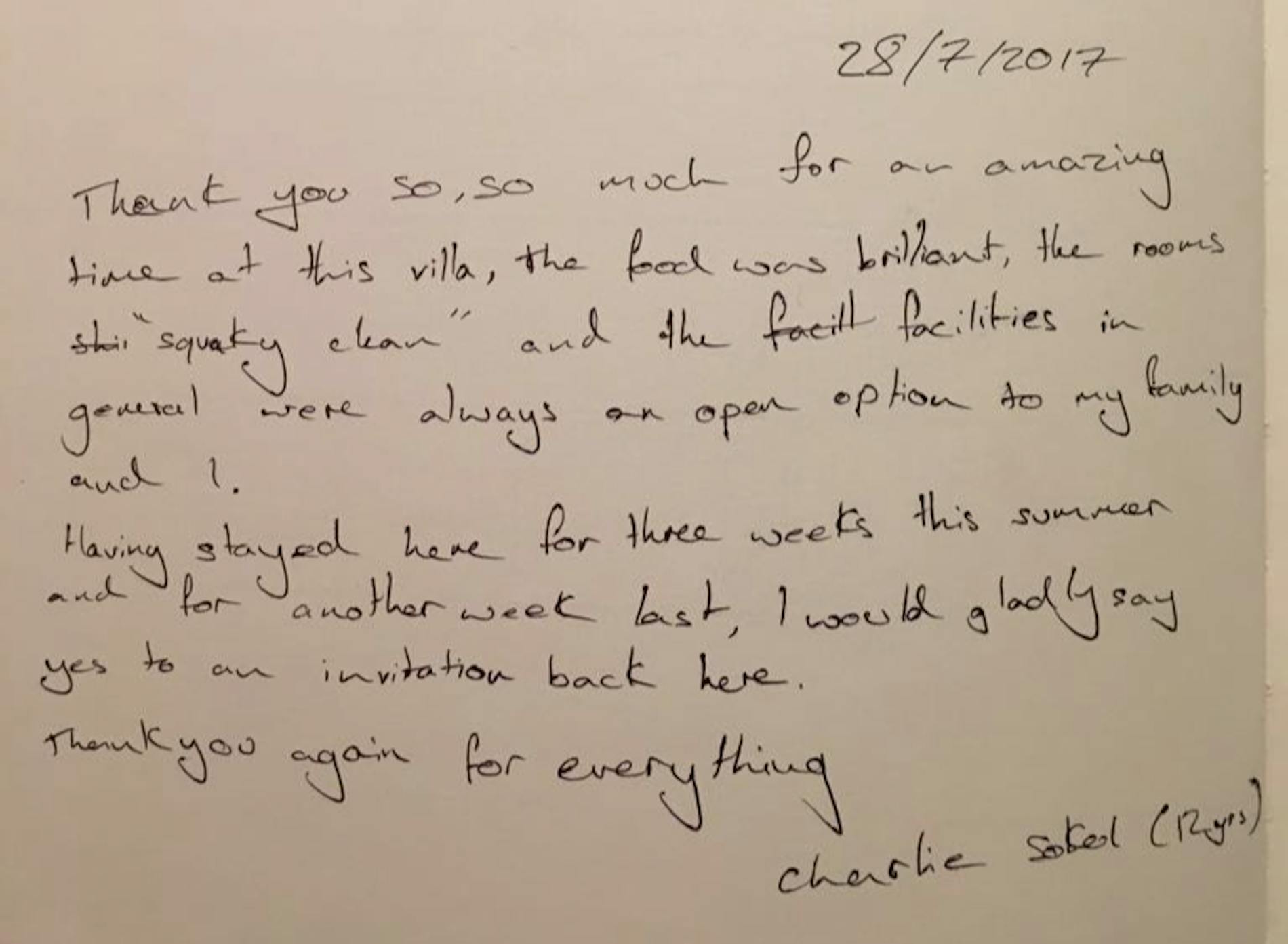 ---
"The most beautiful villa I have ever been to. The staff were great and the house was as clean as a hotel. Thank you."
Theo Sokol


---
"What a spectacular time we had at Villa Tavernaccia! Words cannot describe the experience. Everything is just perfect! We have had the best time sharing the beauty, food excellence! and socialising with a fabulous group. We certainly hope to return. We will carry the memory forever. Thank you so much."
Corin and Jane Buyen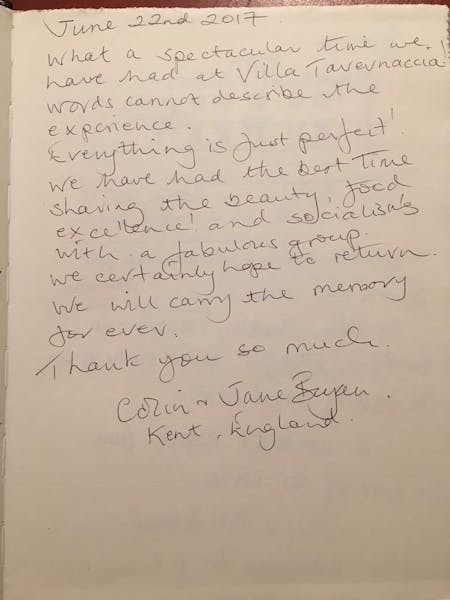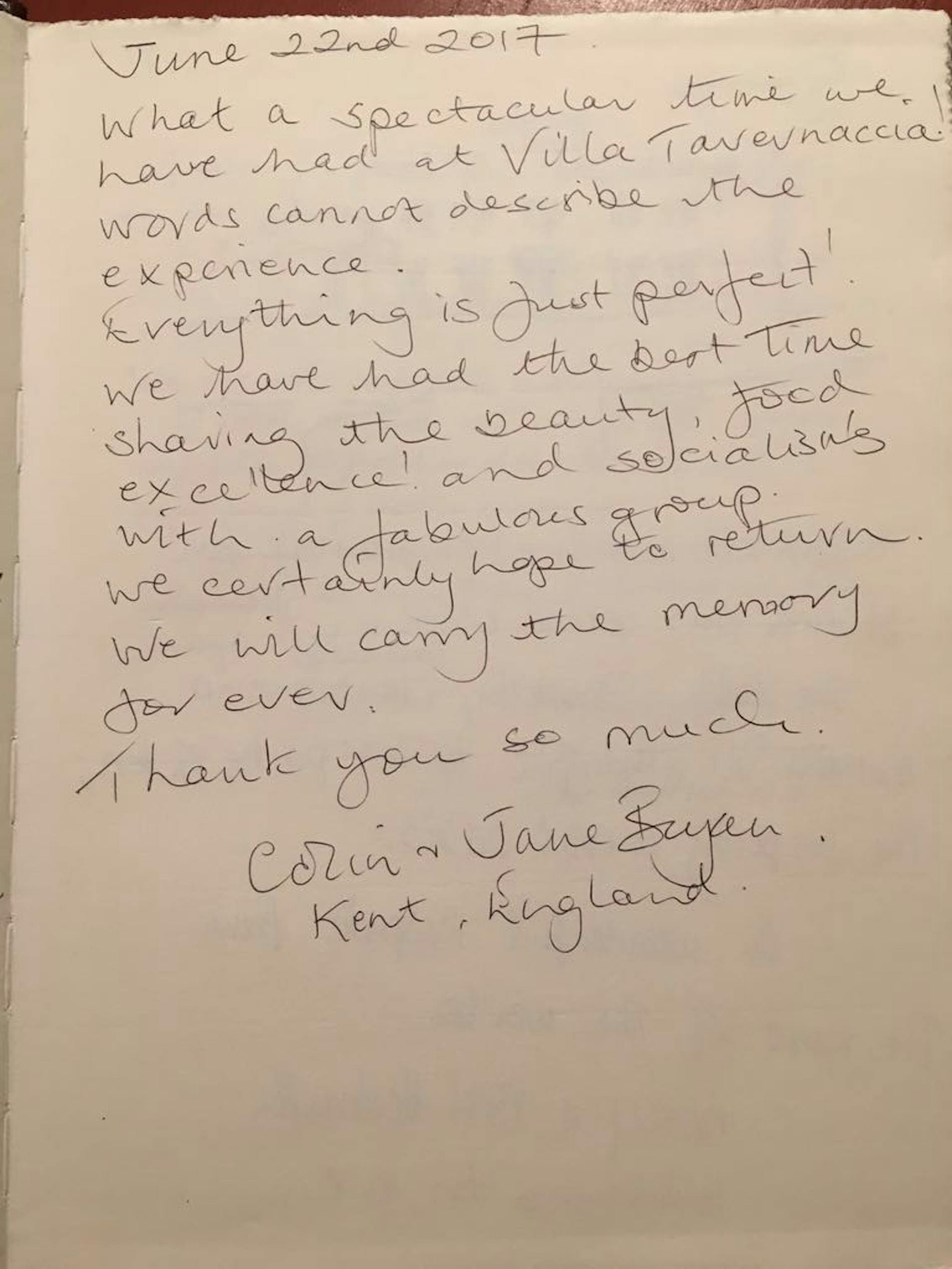 ---
"Anywhere you go in life is the company you keep and meet. So it was that we were amongst the dearest of friends, and the professionals we met could not have made our stay any more comfortable and enjoyable. Of course the villa was magnificent: spacious, comfortable, decorated in style and with just the right amount of modern convenience. I am not good enough a writer to explain/describe adequately the magnificence of the views and vistas… enough said!"
Ted and Jane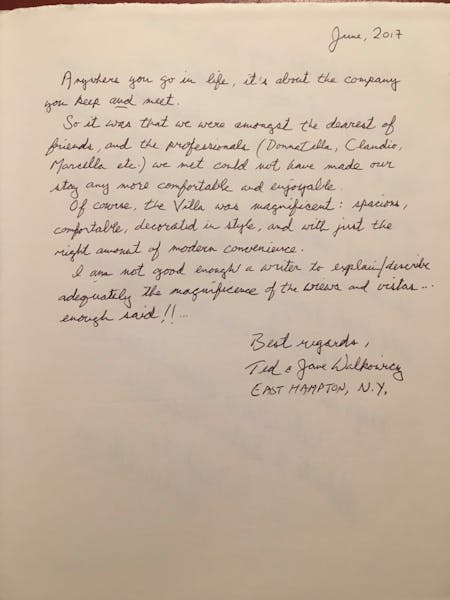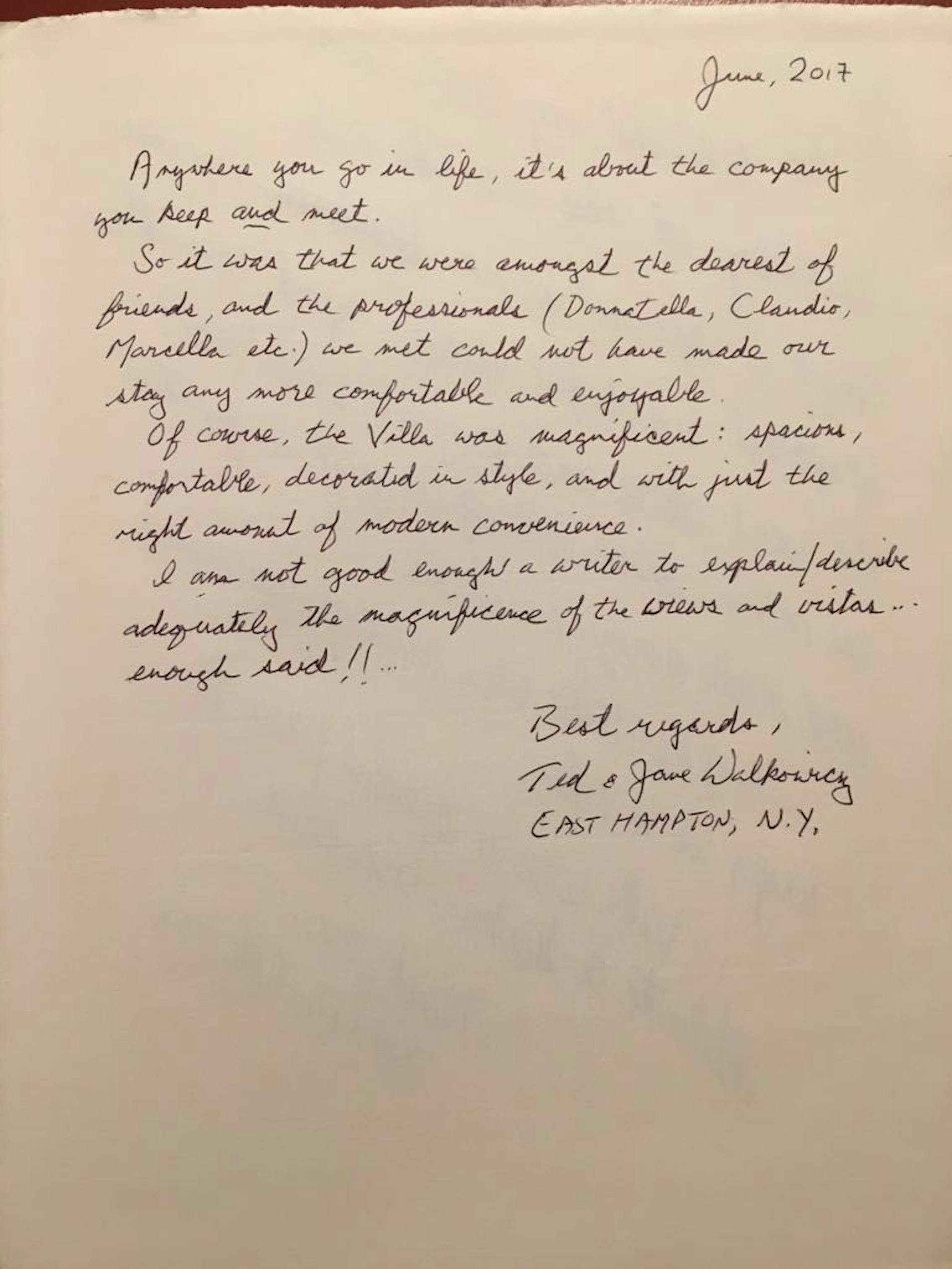 ---
"Villa Tavernaccia is absolute perfection in every way. A very big slice of heaven! The fantastic and interesting history of the house (a hideout for bandits!), the splendor of the property, the house, the amazing views upon driving up the hill to arrive at the gates. Then the beautifully decorated interiors (got a peek at those in Elle Decor magazine) which is a perfect mix of beautiful antiques and contemporary touches (love the stripes on the walls, lampshades). You have created a real home for your family but also for your guests who feel like they are at their own home in your villa. Thank you for sharing your paradise with us. We are a group of ten – five couples- who are close friends celebrating one couple 60th birthday. We have had amazing dinners prepared by Donatella , many laughs at fun cocktails hours, (we declared the Leccio tree the Italian flag windlocks and gave everyone party bags with Italian postcards and gifts, old Italian movies and hats. My motto is "God is in the details"; every detail at Villa Tavernaccia is perfection. You have thought of everything."
Sisi and Peter Burki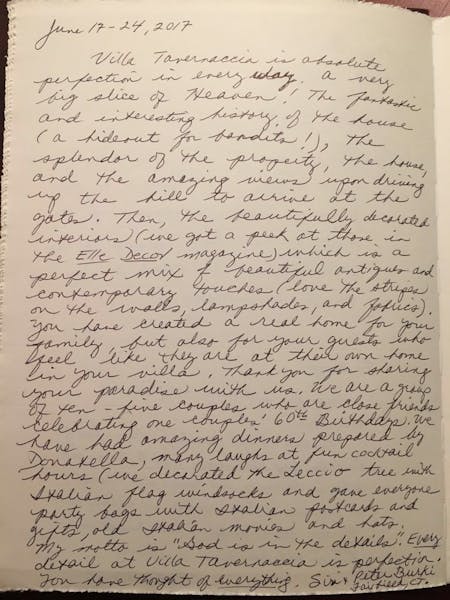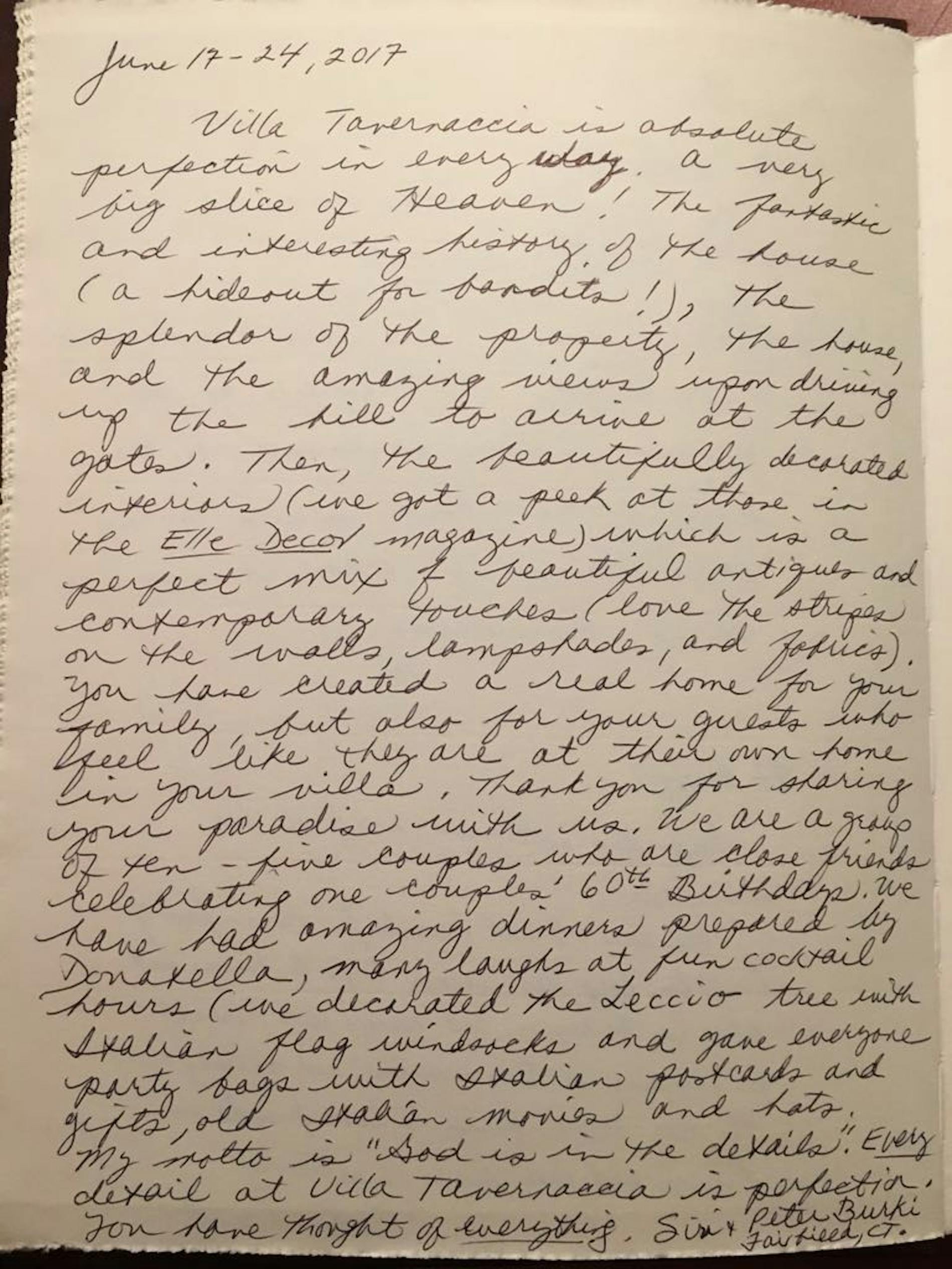 ---
"Una villa magnifica! Grazie mille for sharing this serene estate. The stuff Donatella, Claudio and Marcella so wonderful to our party of ten. The property a cool oasis. A wonderful respite from the rest of the world."
Nanny e Bill Hellmuth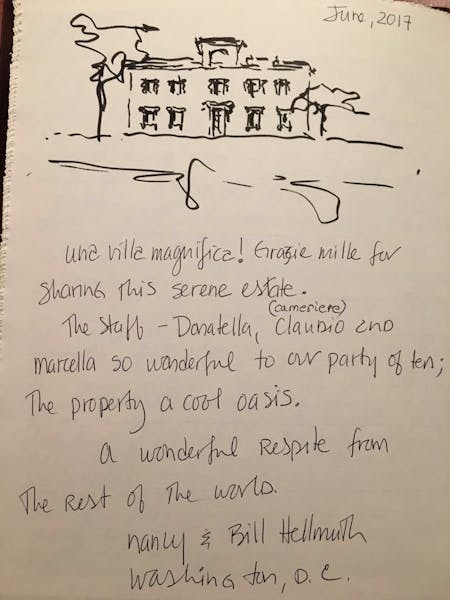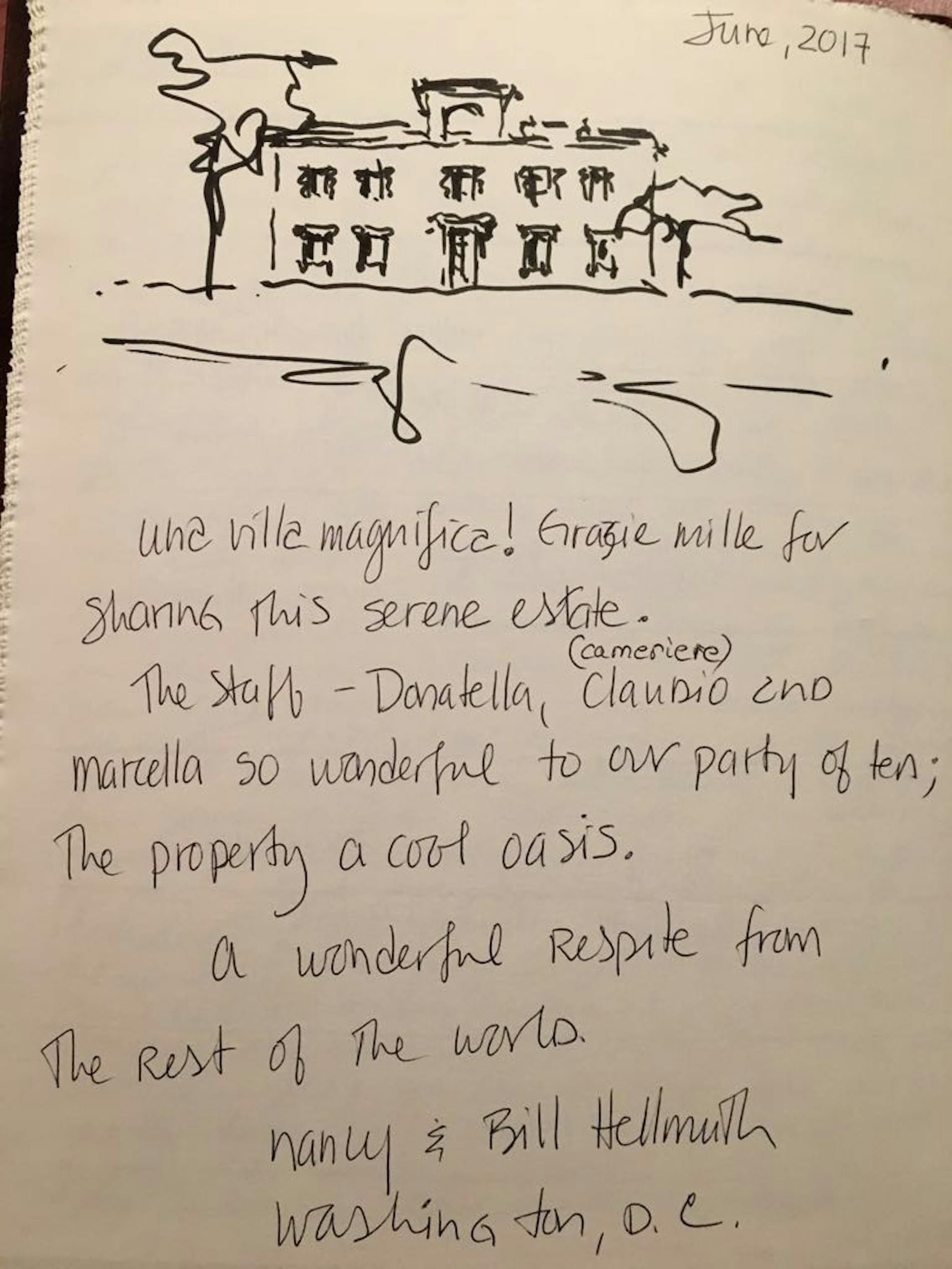 ---
"Dopo due settimane è difficile dire arrivederci! We have all had a wonderful time – full of laughter, long discussions, trips to town and sites in the region, and forays into Firenze for shopping, visiting museums and walking along the Arno. We are luck to ha e friends on Florence and look forward to returning."
Linda and David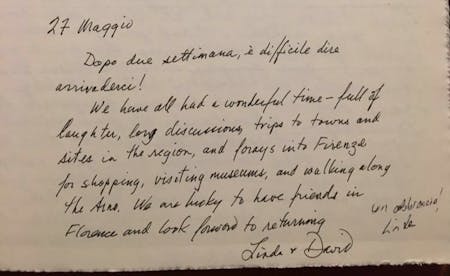 ---
"A beautiful week at Tavernaccia. A very special place… a great cycling!"
Ideler and John O'Brain


---
"Ah! Tavernaccia so beautiful!"
Susan Perren


---
"Che bella villa Tavernaccia, con tanti affetti."
Gad

---
"We truly enjoyed ourselves in your beautiful home!"
Kate and Michele Heisler


---
"Magical, magnificent, marvellous! Villa Tavernaccia is a one of a kind of gem. Thank you for letting us share your beautiful home with us."
David Landis, Sean Dowdowl


---
"Thank you for a FANTASTIC week!! Marcella and Remus were just amazing, we enjoyed everything about the villa and recommend it very highly. Grazie mille!"
Tracy Michael
---
"We had a wonderful time with friends and family. Just beautiful!"
Judy Thompson and Bill Turner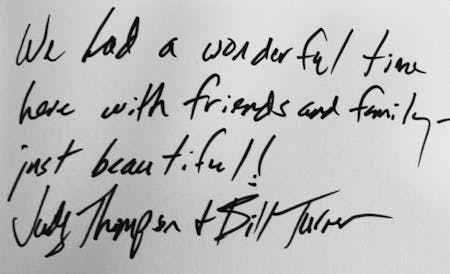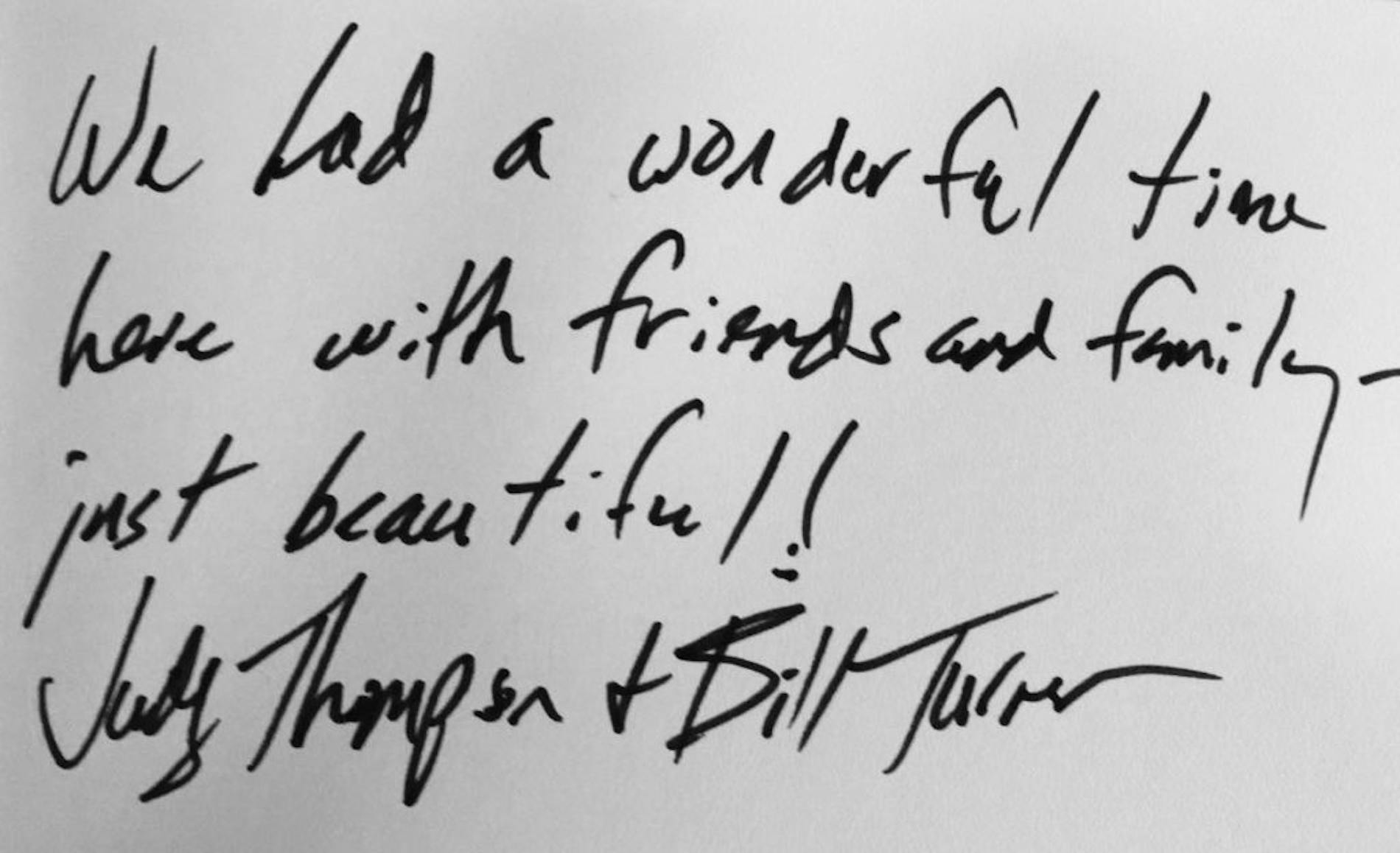 ---
"Thank you for gifting us with this amazing week! The house is warm and beautiful… we will cherish the memories fondly and hope to be back soon. We couldn't think of a more special place to be to celebrate our lovely 60th birthday. Grazie mille."
Sonia Tsao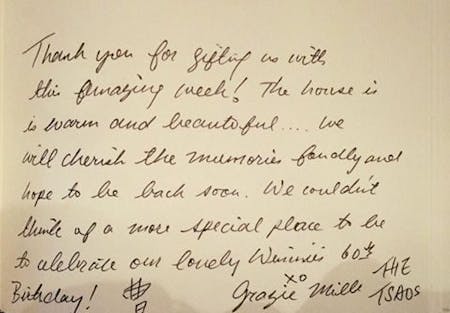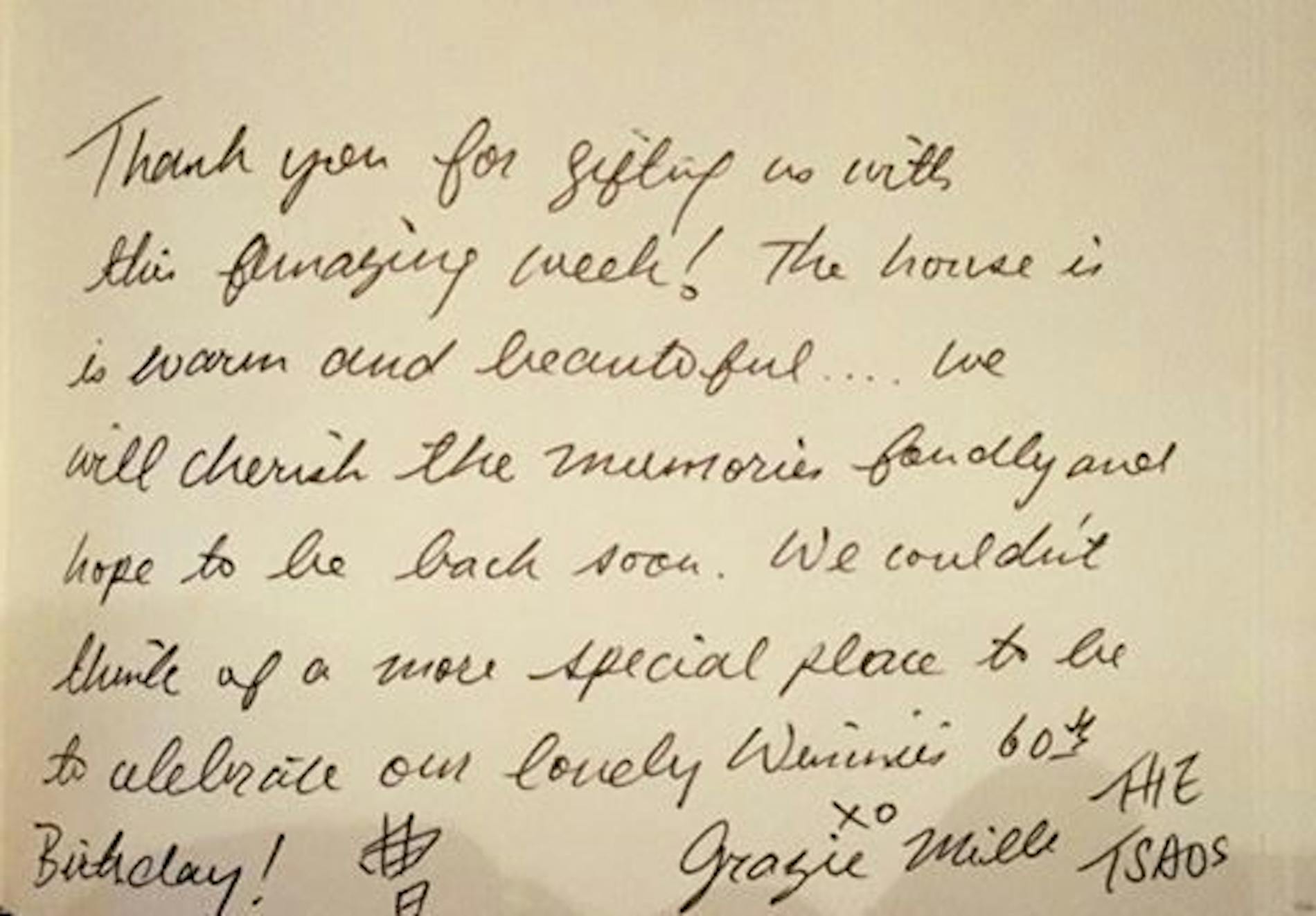 ---
"Marcella, thank-you for making this week such a special one. Your thoughtfullness and warmth will be remembered for a very long time! We had a wonderful week! Much love to you!"
Jill Swisher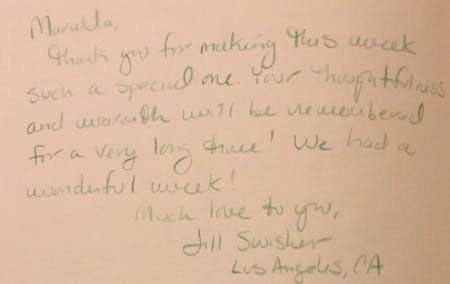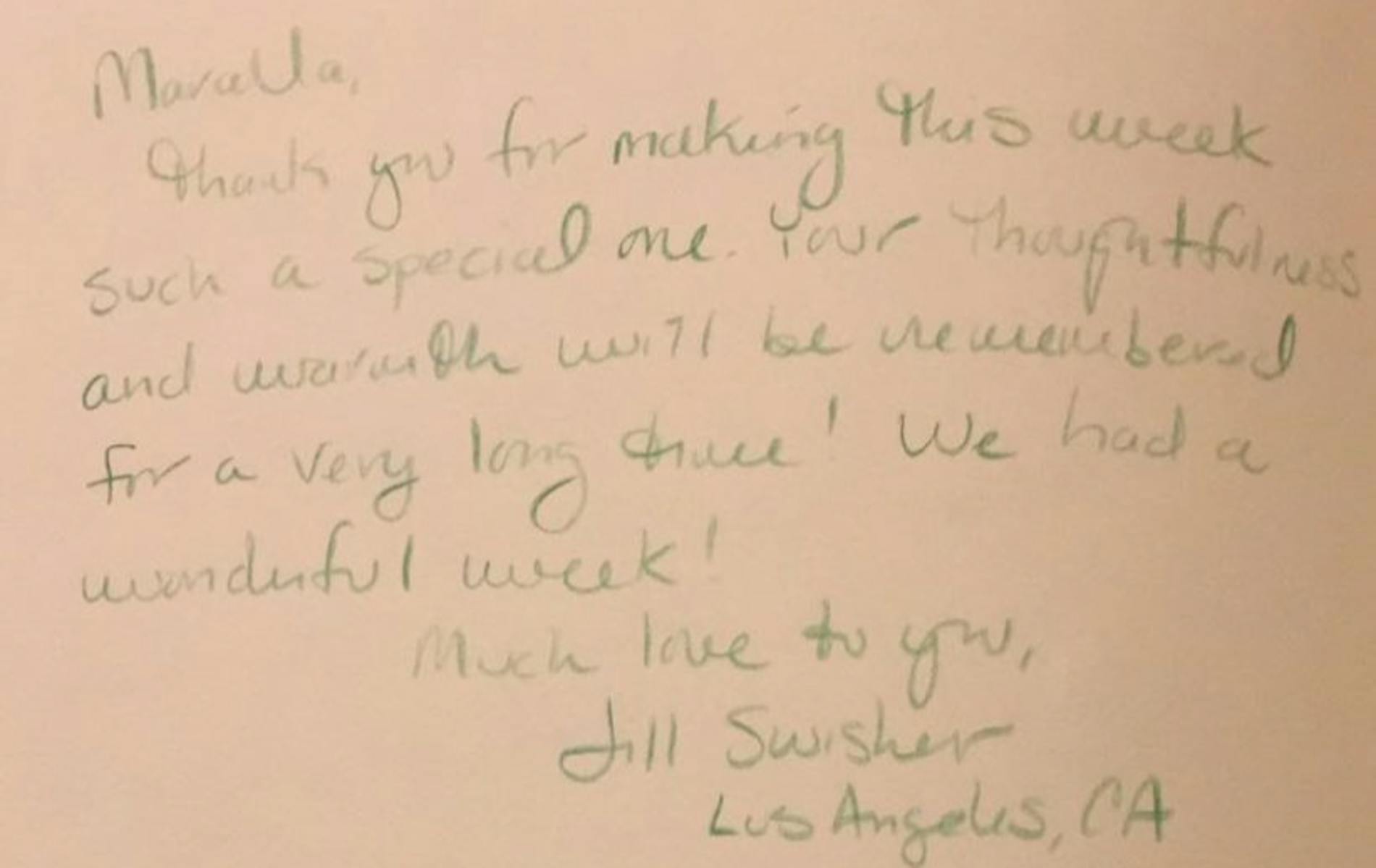 ---
"I have loved staying more! It has been so much fun! I will miss! Love Mia We never want to leave please adopt us!"
Jason, Cristine, Kayn Tilden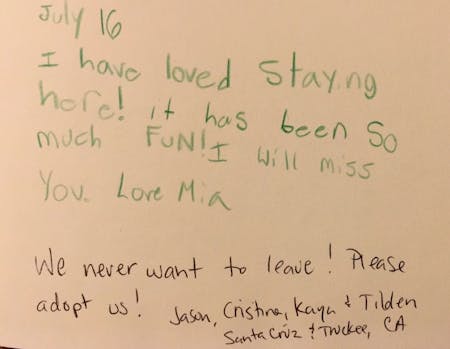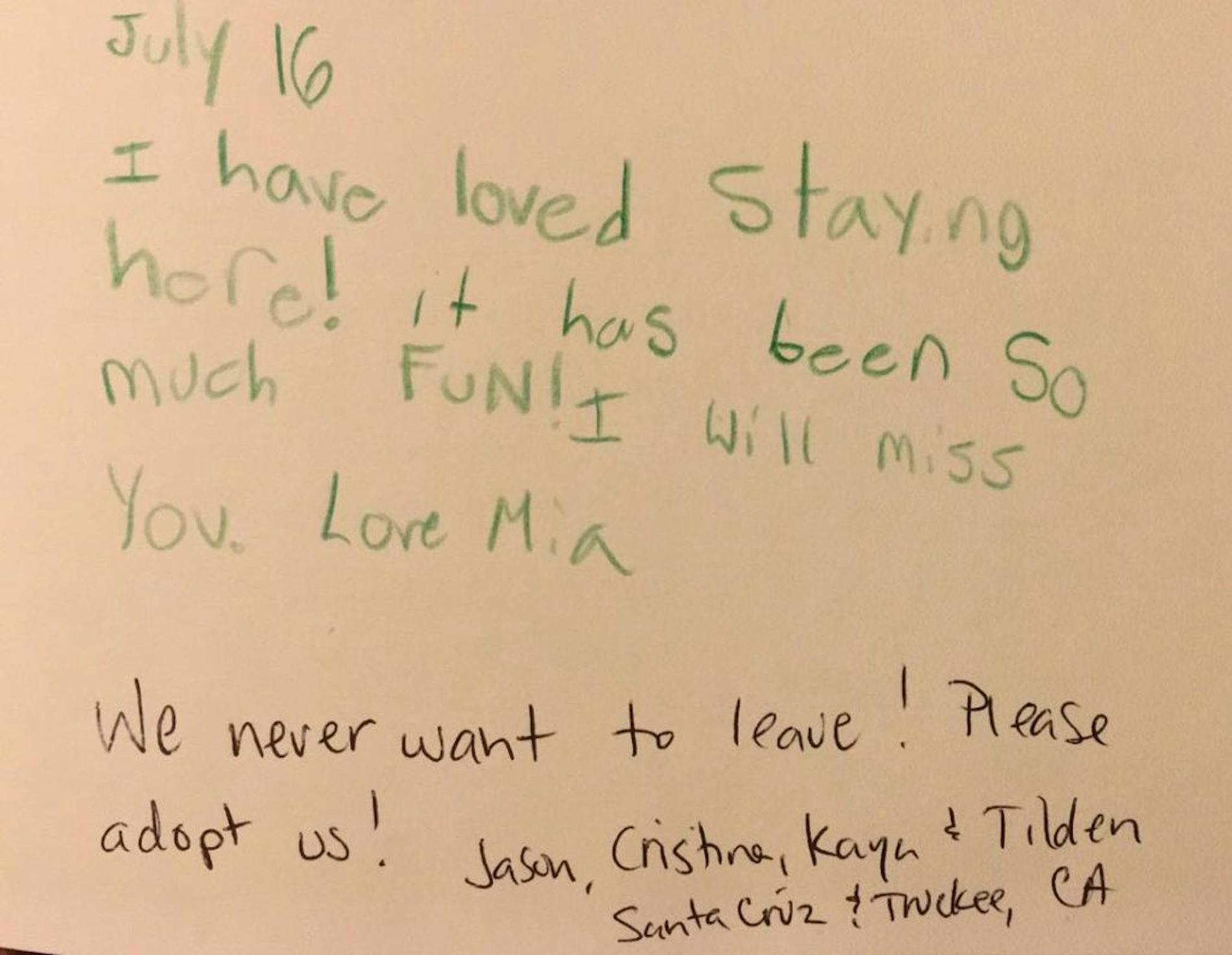 ---
"We agree about perfection. The view, the house, the "haute cuisine" and the wonderful people, Marcella, Remus and Simone. Many thanks"
Nancy and Richard Asthalter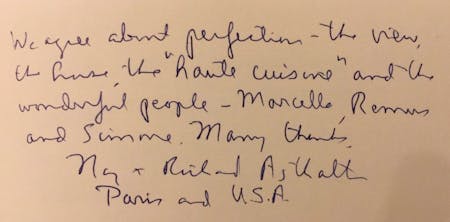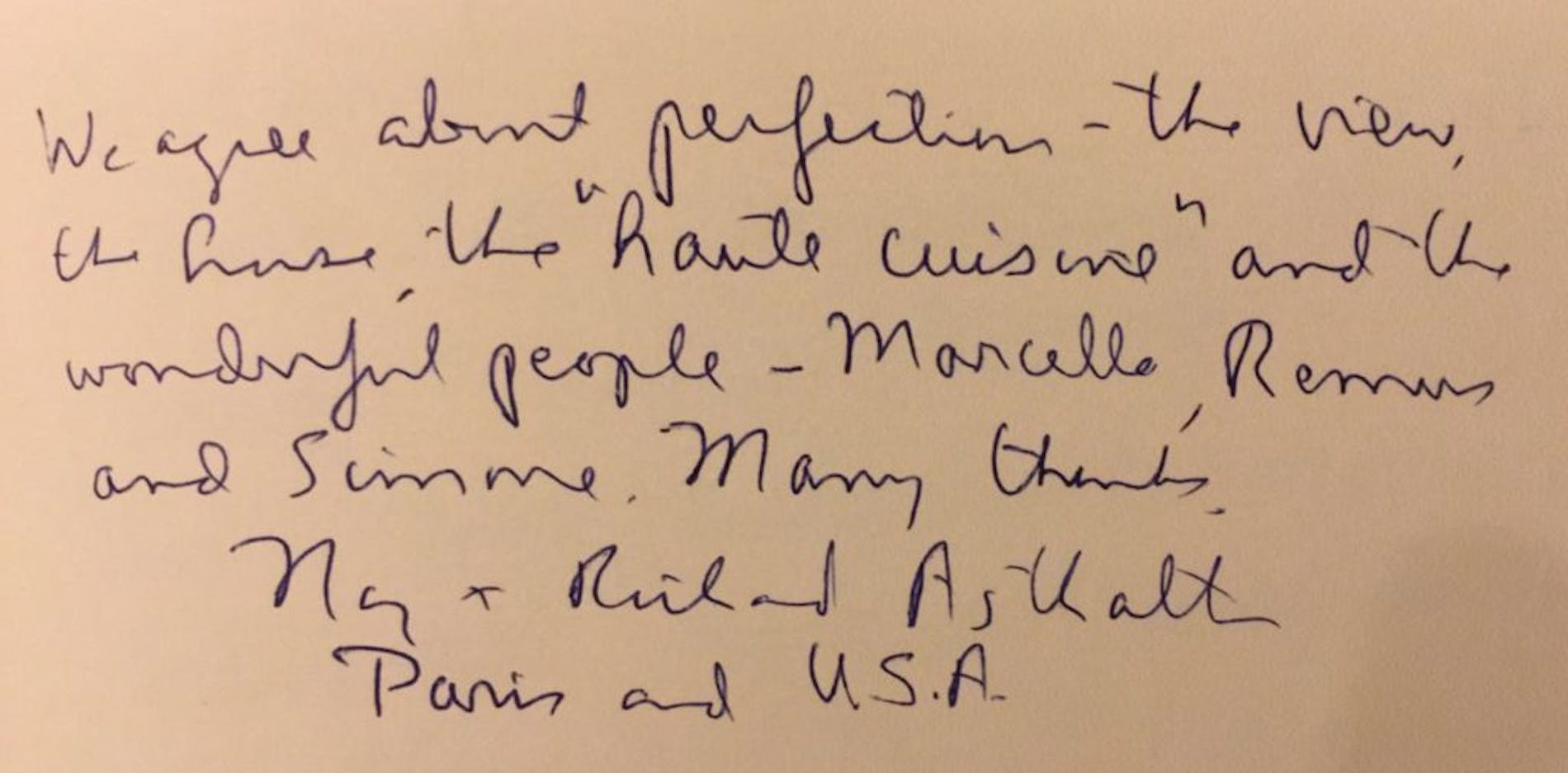 ---
"A very special place for a reunion of friends from Washington DC, Paris, Princeton,N.Y. and Buffalo. We loved it all. Thank you to Simone, Marcella and Remus."
Albert and Madzy Beveridge, Peggy and Sam Richardson, Nina and Bob Freudenheim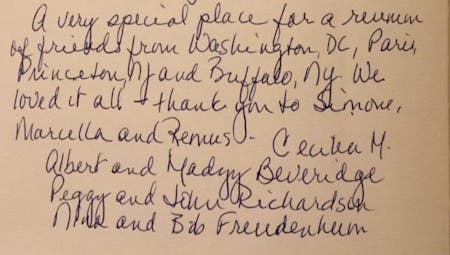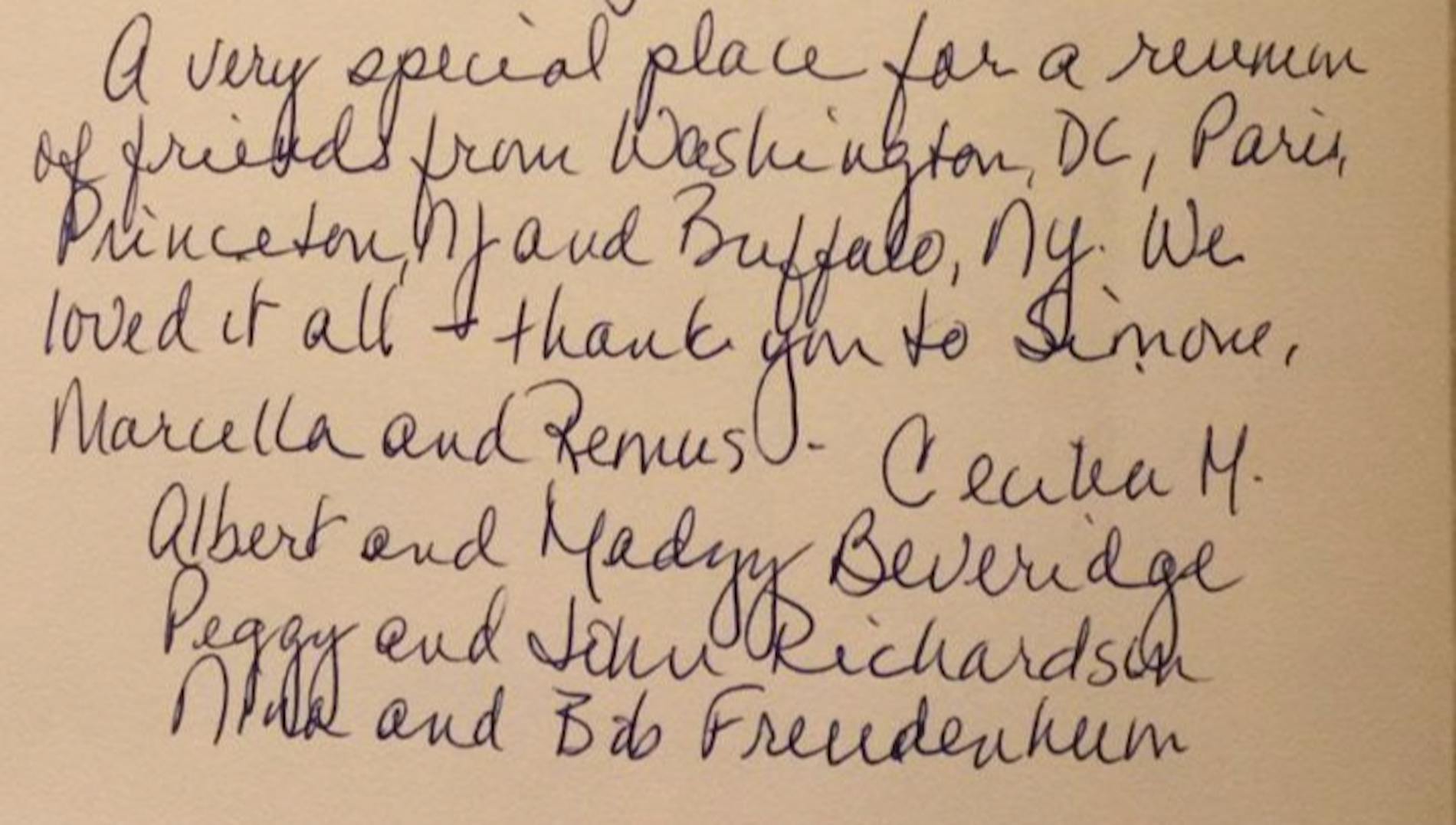 ---
"Absolute perfect the house, the grounds, the views. Everything. Thanks to Simone, Marcella and Remus who all made this vacation memorable and unforgettable."
Molly Raiser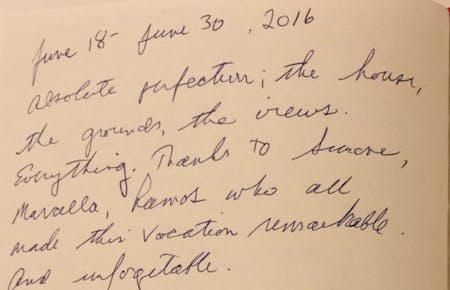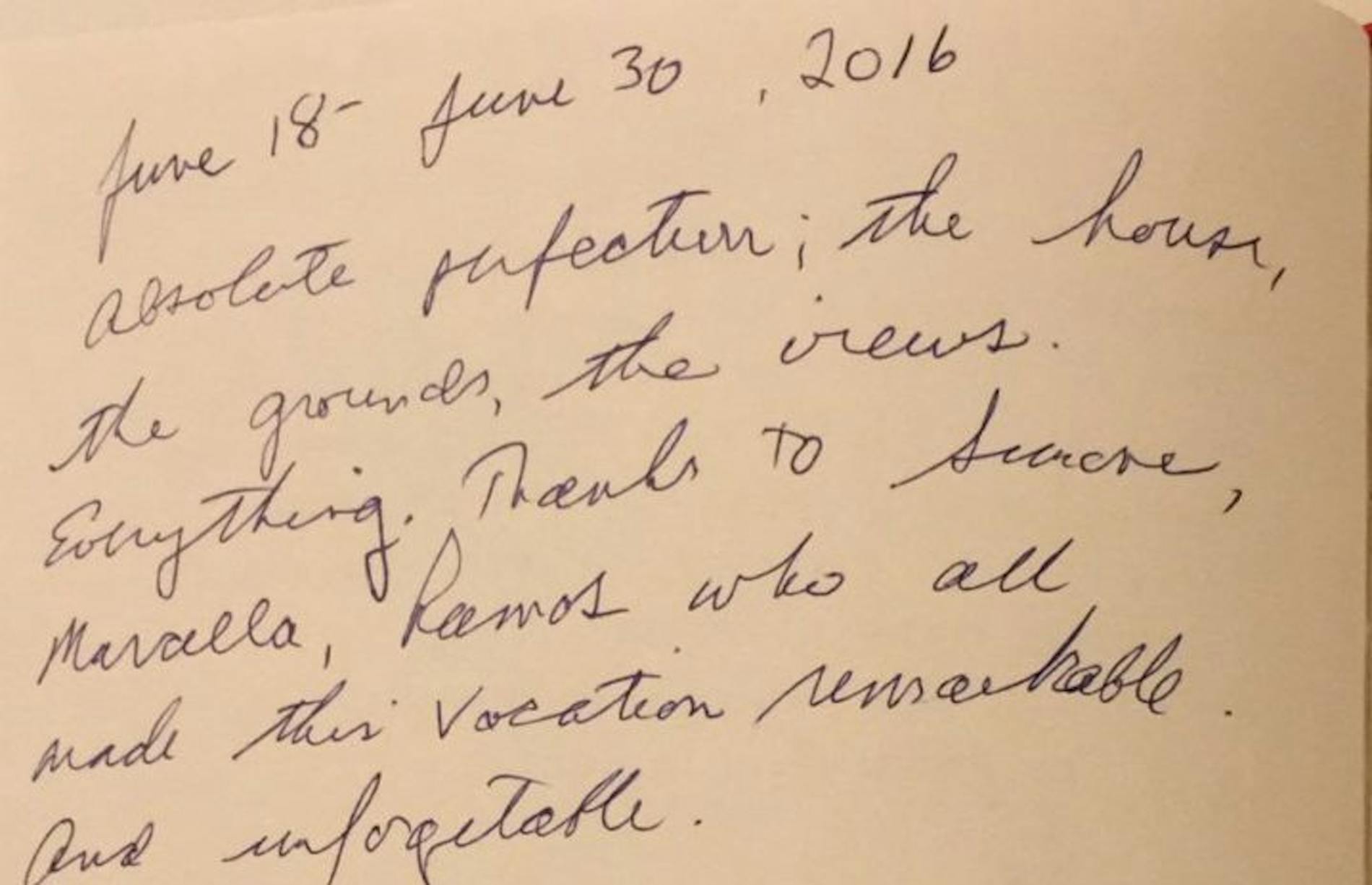 ---
"Thank-you for spoiling us this week, your smile each morning was the perfect way to start the day. We'll miss you. Come and visit us and we'll make breakfast for you!"
Lee, Scotty Recher, Pierce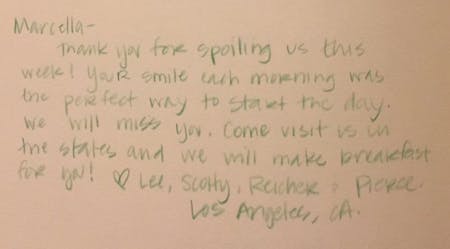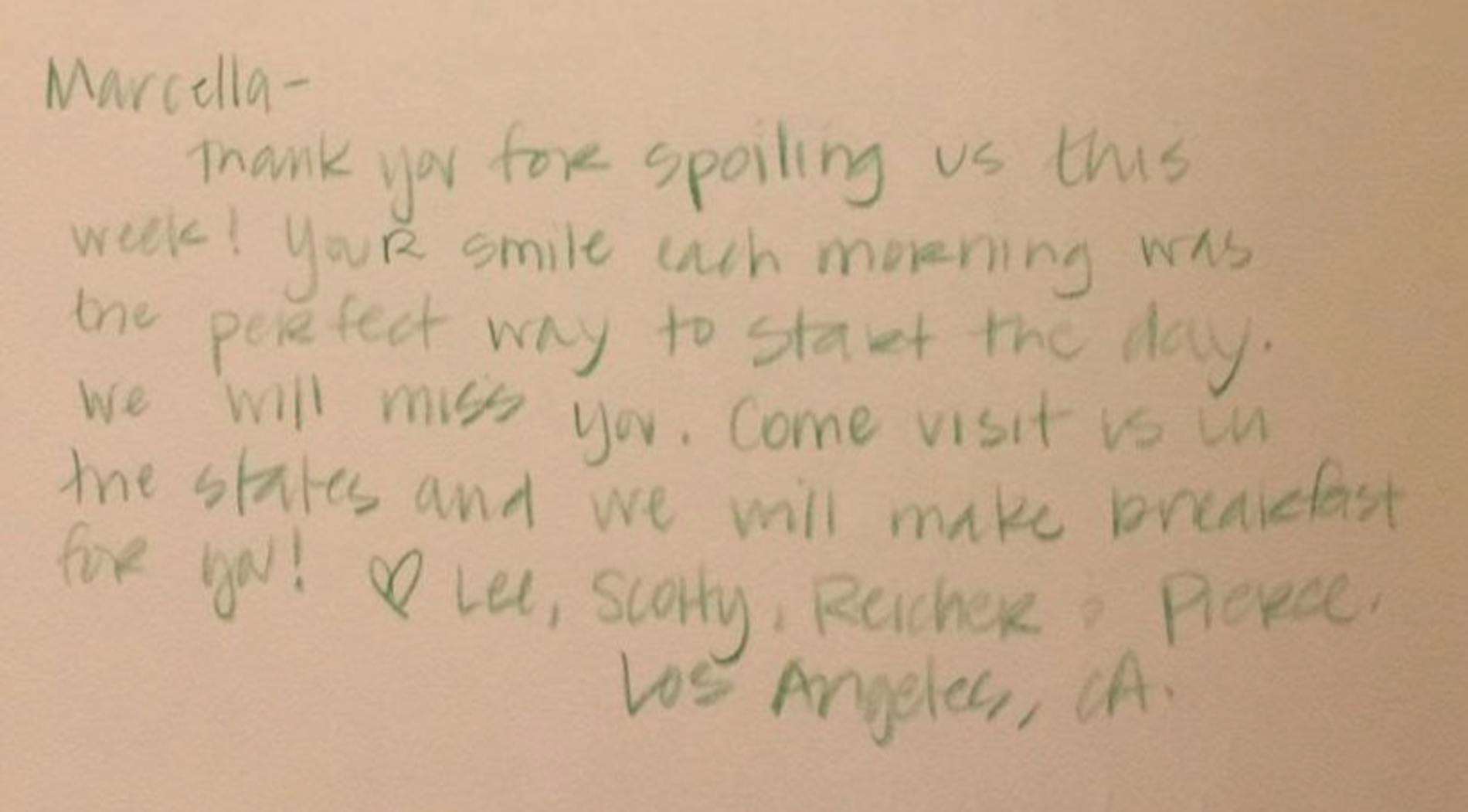 ---
"Simone, Marcella e Remus, you are all divine, à la prochain! A big "baci" for a glorious week in Tuscany with great fondness."
Simon Pinninger and Carolyne Rohem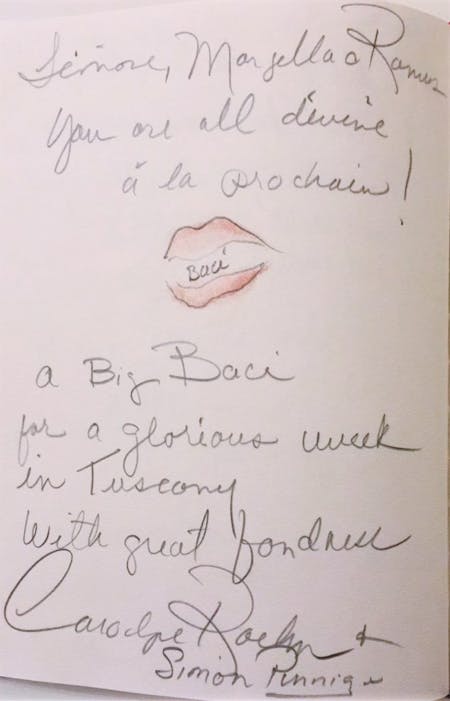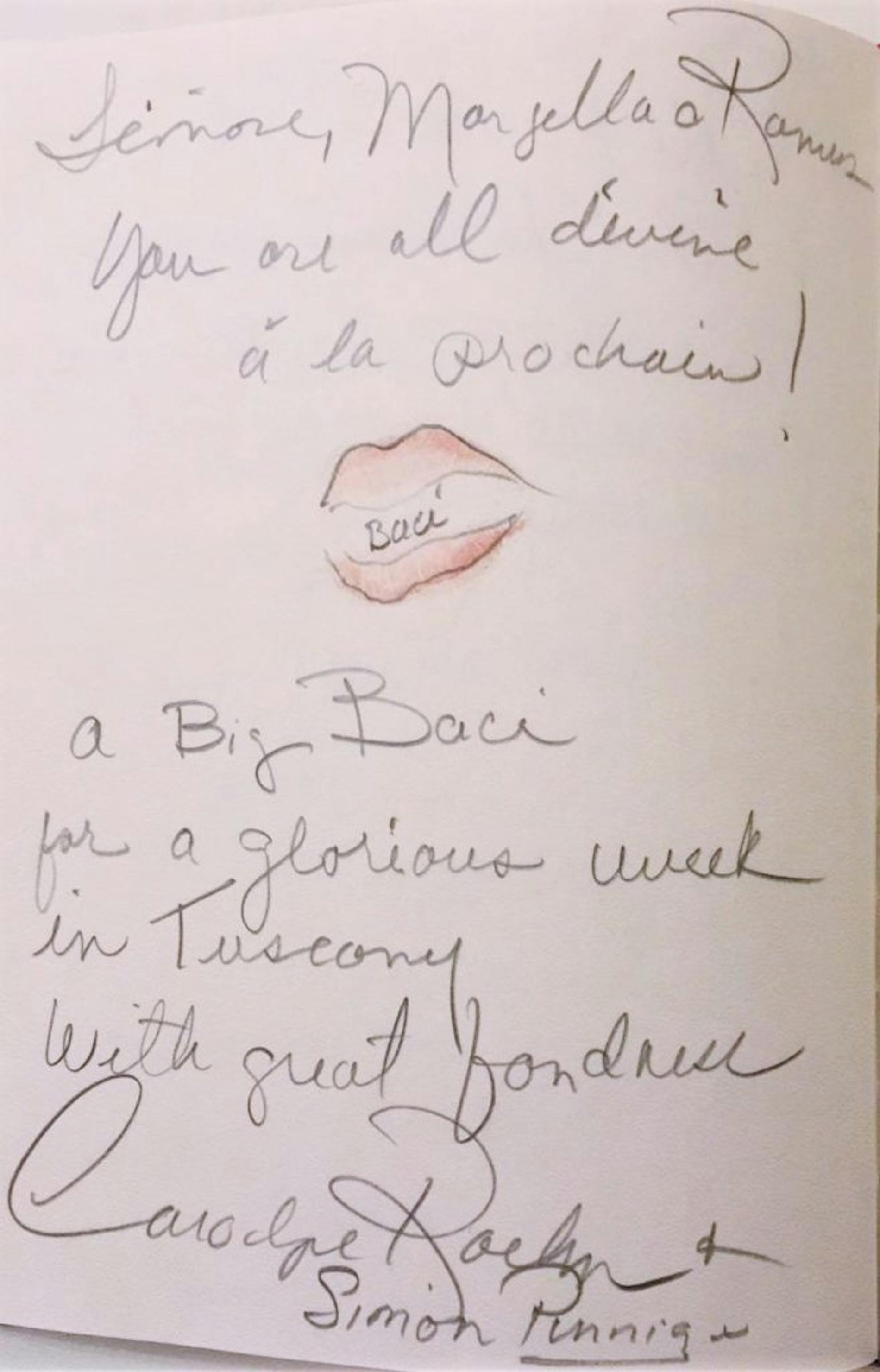 ---
"I am so glad to leave a review on your beautiful villa. My top guest from Moscow and his family have recently terminated their excellent holidays at Villa Tavernaccia. The building's location, the setting and the typical Tuscan landscape are absolutely stunning. The immaculate lovely maintained garden, warm enough in day time to enjoy the swimming pool while the evening breeze makes it ideal for outdoor dining, has been the perfect unique retreat for relaxation. All rooms are comfortable and clean as well as the linen provided. The kitchen is well equipped and very practical either for professional use, as you know, we have organized a nice birthday celebration. The villa's frame and the professionality of Marcela and Remus has made the difference. I really wish to book your villa again in the future."
Paola Colacicco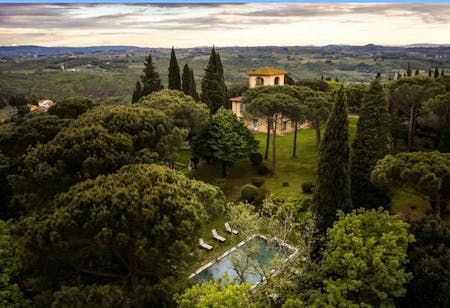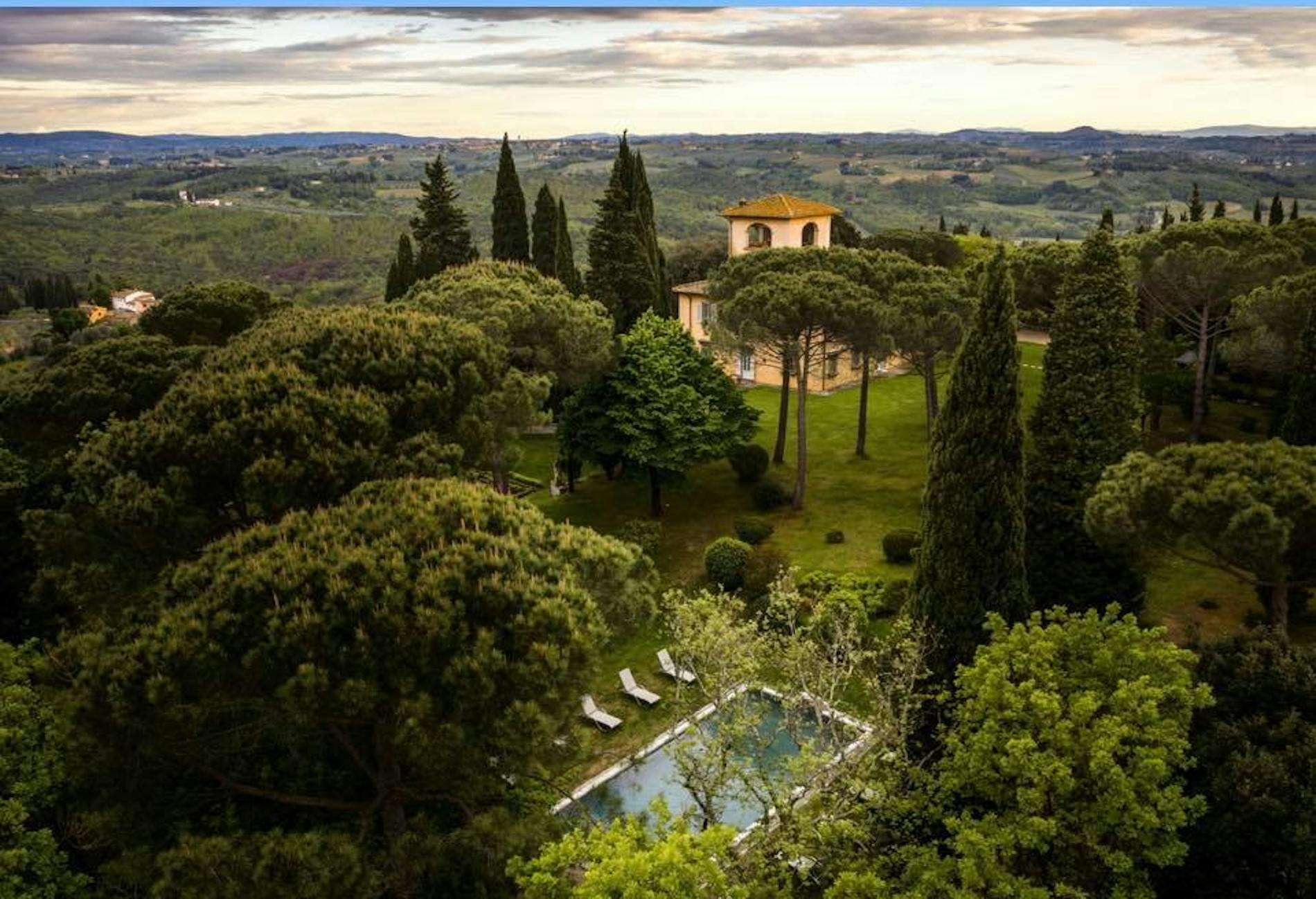 ---